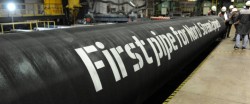 Tuesday - The European Investment Bank says it will end all funding for fossil fuels before the end of the year.

8 Dec 20 - Deutsche Bank says it will join a small number of financial institutions that link management pay to environmental, social and governance-related criteria.

7 Dec 20 - Denmark's climate minister is fairly certain that the deal to close down the nation's oil industry by 2050, announced on Friday morning, marks the biggest moment in his career.

2 Dec 20 - EUROPEAN Union member states are fighting over which type of hydrogen to support, with two opposing camps facing off: those backing green hydrogen produced exclusively from renewable electricity, and those in favour of a broader "low-carbon" definition, which also includes nuclear power and decarbonised gases.

1 Dec 20 - Rail operators in Italy and Germany are turning to hydrogen power in an attempt to make their train networks more environmentally friendly, with Deutsche Bahn, partnering up with Siemens, among the trailblazers.

1 Dec 20 - International lawyers are drafting plans for a legally enforceable crime of ecocide – criminalising destruction of the world's ecosystems – that is already attracting support from European countries and island nations at risk from rising sea levels.

27 Nov 20 - Europe wants to install the euro as the reference currency for trading hydrogen, but a global market with harmonised standards needs to be put in place first in order to meet demand, says the EU's energy commissioner.
---
25 Nov 20 - New Zealand is not alone in considering a carbon border-tax on steel; steelmakers in Europe say they need a "Green Deal" to protect them from high-emissions imports from China.
23 Nov 20 - The European Commission has launched "the world's first ever 'green-list'" of sustainable economic activities for private investors by publishing draft guidelines under the EU's green finance...
20 Nov 20 - The European Commission will consider hydrogen produced from nuclear power as "low-carbon", says a senior EU official who spoke in the European Parliament this week.
17 Nov 20 - Power plants fuelled by natural gas will not be classed as "sustainable" or "transition" investments in Europe unless they meet emission limits which are so low that none are currently able to...
17 Nov 20 - Russia has no plans to achieve carbon neutrality before the end of the century and is betting on Asian demand to support a huge expansion of its Arctic gas industry.
16 Nov 20 - A strengthened emissions trading scheme will be vital to drive further carbon dioxide reductions in the European Union as the bloc discusses an increase of its 2030 climate target, policymakers say.
16 Nov 20 - European governments have approved a roadmap to turn the European Investment Bank into a "climate bank" with a €1 trillion green investment package to be spent by 2030.
11 Nov 20 - Attempts to crack down on climate-damaging fluorinated gases has instead sparked a flourishing black market in Europe.
10 Nov 20 - The European Commission and senior EU lawmakers say they are ready to intensify dialogue with the US on climate change, listing car CO2 limits and green finance among areas where "real transatlantic...
4 Nov 20 - Power plants fuelled by natural gas will not be classed as a sustainable investment in Europe, unless they meet an emissions limit that none currently comply with.
29 Oct 20 - The European Union is trying to remove fossil fuels from the list of investments protected by the Energy Charter Treaty to stop its member states being sued over climate action.
27 Oct 20 - The European Commission will not stand in the way of countries that choose to build new nuclear power stations, said EU climate chief Frans Timmermans.
---