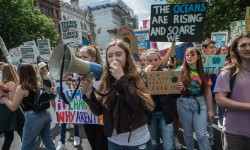 Monday - A group of US philanthropists and investors have donated almost half a million pounds to support the grassroots movement Extinction Rebellion and school strike groups – with the promise of tens of millions more in the months ahead.

Monday - The UK government says all new ships ordered from 2025 and aimed for its waters must be equipped with zero emission technology as part of a plan to cut maritime pollution.

Monday - Farmers are switching from cattle to camels as some parts of Africa are getting hotter and drier.

Friday - A group of citizens is suing the Indonesian government, including the president, over the poor air quality in Jakarta, which in recent weeks has ranked as the worst in the world.
Friday - A fifth of the world's major cities will face "unknown" climate conditions by 205 as rising temperatures heighten the risks of drought and flooding.

Friday - The UK government's own advisers have declared themselves shocked that the Britain has no proper plans for protecting people from heatwaves, flash flooding and other impacts of the climate crisis.

Friday - Europe should become the world's first climate-neutral continent, says Ursula von der Leyen, who is chasing the European Commission's top job.
---
Friday - The French government announced that it will roll out a tax on all international flights departing from France starting in 2020.
Thursday - About a quarter of the world's highest-emitting, publicly listed companies fail to report their greenhouse gas emissions, new research has found.
Thursday - Antarctica faces a tipping point where glacial melting will accelerate and become irreversible even if global heating eases, research suggests.
Thursday - The Russian government will submit legislation to ratify the Paris climate agreement by September, but president Vladimir Putin warned against the perils of "absolutist" renewable energy.
Thursday - Burial uses too much land; cremation releases too much carbon dioxide. So what about composting our loved ones – or even dissolving them?
Thursday - Alaska, part of which lies inside the Arctic Circle, is sweltering under a heatwave, with record temperatures recorded.
Wednesday - Australia is falling further behind its Paris emission reduction targets. New figures show a surge in the first quarter of 2019, increasing the gap between emissions and the trajectory that the...
Wednesday - Climate crisis disasters are happening at the rate of one a week, though most draw little international attention, says the UN.
Wednesday - Climate change and ecological breakdown might one day be viewed with the same universal repugnance as slavery, according to David Attenborough.
Wednesday - Two of the UK's biggest energy suppliers have pledged to replace thousands of their existing fleet of vans with all-electric models by 2030.
9 Jul 19 - Air pollution is affecting the performance of China's solar-energy farms, scientists say.
9 Jul 19 - THE booming liquefied natural gas industry will play at least as big a role as new coal investments in bringing on a climate crisis if all planned projects go ahead, energy analysts say.
---