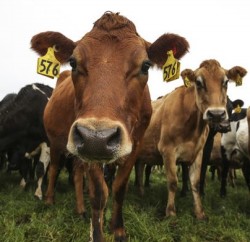 Friday - Meat and dairy companies are on track to be the world's biggest contributors to climate change, outpacing even the fossil fuel industry, according to a new report.

Friday - The floor of California's Central Valley is slumping, and there is arsenic in the tap water. It seems the two problems are connected.

Friday - Palau plans to stop buying diesel and go 100 per cent solar by the end of 2019 - offering a blueprint for other Pacific nations to do the same.

Friday - UN Environment and Google have joind forces to provide trackable data on human impacts on the environment.

Friday - The average Singaporean uses an unconscionable 13 plastic bags a day. With its only landfill site fast filling up, what are consumers and businesses doing to defuse the nation's plastic waste timebomb?

Friday - England is on the brink of burning more of its rubbish in incinerators than it recycles for the first time, according to a new analysis.

Thursday - Europe's massive free-trade deal with Japan is the first the EU has struck with a specific provision on the Paris climate agreement.
---
Thursday - The rise in sea levels will put vital internet infrastructure at risk, new research suggests.
Thursday - Indigenous peoples are crucial for global conservation and for living with climate change – after all, a quarter of all land is in their hands.
Thursday - More than a billion people are at risk from a lack of air conditioning and refrigeration to keep them cool and to preserve food and medicines as global warming brings more high temperatures, a new...
Thursday - The extreme heat that has come with climate change is prompting aircraft manufacturers to test their fleets for increasingly hotter temperatures.
Wednesday - Climate change will become a "main pillar" of the relationship between the European Union and China, leaders said yesterday.
Wednesday - What if countries responded to US President Donald Trump's tariffs by taxing imports based on their carbon footprint instead?
Wednesday - Two of the biggest economies in Europe last week set new records for clean energy.
Wednesday - As immigration issues along the US southern border continue to roil the country, one driving force of migration from troubled Central American countries has received relatively little notice: climate...
Tuesday - The world community has taken action against climate change but it must "triple its efforts" to reduce emissions, says the man who presided over the Paris Agreement.
Tuesday - Uncertainty, hostility and irrelevance are now part of daily life for scientists at the US Environmental Protection Agency.
Tuesday - A bottle deposit hub on the outskirts of Oslo has had a stream of high-level international visitors. Can its success be replicated worldwide?
Tuesday - The gas station chain that was owned by US Vice-President Mike Pence's family has left more than $20 million worth of environmental remediation costs for Indiana taxpayers.
---