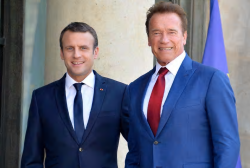 Wednesday - The new French government has announced it will stop granting licences for new oil and gas exploration.

19 Jun 17 - A chemical found in CDs, DVDs, kettles and water bottles could soon be restricted after EU authorities ruled that it posed a threat to human health because of its effects on hormones.

16 Jun 17 - Sweden has committed to becoming a net-zero carbon emitter by 2045, under a law just passed in parliament.

15 Jun 17 - Europe's largest economy and the largest state economy in the US have issued a joint statement of intent to boost climate cooperation.

8 Jun 17 - The UK recorded the largest decrease in greenhouse gas emissions in the European Union in 2015, although new research has found the emissions from the bloc increased for the first time in five years.

25 May 17 - The Polish government has been accused of pushing a primeval forest system to the point of no return with state-sanctioned logging in a Unesco world heritage site.

24 May 17 - Swiss voters have said yes to the government's plan to provide billions of dollars in subsidies for renewables, in addition to banning nuclear power.
---
23 May 17 - An international carbon trading organisation says British companies should stay in the European Emissions Trading Scheme until at least 2020, despite Brexit.
23 May 17 - Shell shareholders including the Church of England, European pension funds and Dutch activists will send a signal to the board of the Anglo-Dutch company this week by voting for it to set new...
19 May 17 - Former climate heroes France, Finland, Sweden and Austria are fighting tooth and nail to weaken EU land accounting rules, also known as the LULUCF Regulation.
18 May 17 - Funding from Shell and other oil majors has turned a prestigious Dutch University into a conduit for fossil fuel policy gambits, according to an explosive new report.
11 May 17 - EU countries are using the low carbon transition to justify new subsidies to the coal industry, instead of investing in clean alternatives.