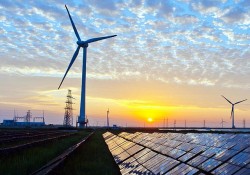 Tuesday - Renewable energy consumption in the US topped coal consumption in 2019, the first time this has occurred in more than 130 years.

29 May 20 - In March 2017, a scientist named James Enstrom rattled many public health experts by publishing a study concluding that there was no link between fine soot air pollution and premature death.

18 May 20 - A melting glacier in Alaska might trigger a landslide that would cause a major tsunami, scientists have warned.

18 May 20 - One analyst says oil, gas and coal were the biggest pension contributors for 30 years, but now are the worst performing sector—and there are no signs of improvement.

15 May 20 - The Trump Administration is planning to buy one million barrels of oil from US companies after funding to make a larger purchase failed to pass Congress.

15 May 20 - Presidential hopeful Joe Biden has appointed Alexandria Ocasio-Cortez, the avatar of the Green New Deal, and former Secretary of State John Kerry, an architect of the Paris climate agreement, to his climate team.

13 May 20 - Fossil fuel companies and coal-powered utilities in the US are set for a potential bonanza under federal government plans for a bond bailout, part of the rescue package for the coronavirus crisis.
---
8 May 20 - After three years in office, the Trump administration has dismantled most of the major climate and environmental policies the president promised to undo.
7 May 20 - Life is already bad enough for underpaid and overworked crop pickers in the US, but as lethal heat levels rise they will render outdoor labour in the harvest season increasingly impossible.
5 May 20 - US fossil fuel companies have taken at least $50m in taxpayer money they probably won't have to pay back, according to a review of coronavirus aid meant for struggling small businesses.
4 May 20 - Legendary American investor Warren Buffett has sold his firm's entire holdings in the four major US airlines, warning that the world has changed for the aviation industry because of the coronavirus...
1 May 20 - The shale industry made the US a major producer once again. But Covid-19 looks likely to ruin many prospectors.
29 Apr 20 - The Trump administration, seeking to restore America's "competitive nuclear advantage," wants to mine uranium on land bordering the Grand Canyon.
29 Apr 20 - The plastics industry is asking Congress for $1 billion to bail out plastic recycling during the coronavirus crisis.
24 Apr 20 - Climate champion and former US vice-president Al Gore has endorsed Joe Biden's presidential candidacy.
20 Apr 20 - Climate change could be pushing the US west and northern Mexico towards the most severe and most extended period of drought observed in a thousand years of US history, a full-blown megadrought.
16 Apr 20 - Texas just did something that only recently might have been unthinkable. The state whose name is synonymous with American oil took the unusual step of formally considering statewide production cuts.
14 Apr 20 - Bernie Sanders' departure from the US presidential race left hardcore climate change activists in mourning—and wondering where former vice-president Joe Biden stands.
6 Apr 20 - San Francisco is banning reusable shopping bags to prevent outside germs from entering grocery stores.
---