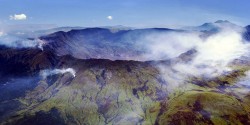 Tuesday - The day in 1815 when the world's climate went berserk was only the start of months and years of global climate disruption and social unrest.

21 Mar 19 - The climate crisis that is driving sea level rises and more extreme rainfall is making deadly storms like the one that hit southern Africa in the past week more severe, according to experts.

6 Mar 19 - New Zealand has experienced two of the three hottest summers on record over the past two years.

28 Feb 19 - Climate scientists have confirmed a high-level hazard, a cloud tipping point, that could send global warming into a dramatic upwards spiral.

19 Feb 19 - Governments must pay more attention to food safety, and address the issue in their action plans to tackle climate change, say officials and researchers.

14 Feb 19 - Droughts affecting in the top of the South Island and top and west of the North Island are spreading, and sea temperatures are increasing, scientists say.

19 Dec 18 - Hurricane Michael smashed through Tyndall Air Force Base, Florida, in October this year doing damage worth $5 billion.
---
29 Nov 18 - UN experts say there is a good chance of a climate-warming El Niño event by February - similar to the one that made 2016 the hottest year on record.
20 Nov 18 - Heatwaves, droughts, wildfire, storms, floods, sea-surges, food shortages and diseases – climate change could see communities hit by multiple disasters at once, scientists say.
19 Sep 18 - In the last few days as hurricane Florence battered the east coast of the United States and typhoon Mangkhut hit the Philippines and China an important scientific breakthrough took place.
3 Sep 18 - El Niño and La Niña – the weather patterns that bring New Zealand droughts on the one hand and storms on the other – will get worse as the climate warms, scientists say.
28 Aug 18 - Farmers in Mexico have accused Volkswagen of ruining their crops by installing "hail cannons", which fire shockwaves into the atmosphere in an effort to prevent hail storms from damaging cars rolling...
22 Aug 18 - Summer weather patterns are increasingly likely to stall in Europe, North America and parts of Asia, according to a new climate study that explains why Arctic warming is making heatwaves elsewhere...
2 Jul 18 - Over a period of 24 hours last week, the temperature in the Oman city of Quriyat never dropped below 42.6deg, most likely the highest minimum temperature observed on Earth.
18 Jun 18 - Tropical cyclones are slowing down. Hurricanes have lost their hurry. Paradoxically, this is bad news: they have more time to work their mischief.
14 Jun 18 - The US Dust Bowl in the 1930s was one of the worst environmental disasters of the 20th century.
7 Jun 18 - As the Atlantic hurricane season begins, scientists are worried that US coastal communities could face more storms so intense that current warning categories don't fully capture the threat.
16 May 18 - The US is bracing for another harrowing spate of hurricanes this year, with forecasts of an active 2018 season coming amid new research that shows powerful Atlantic storms are intensifying.
16 Mar 18 - Cloud seeding has been used to influence weather conditions in in more than 50 countries worldwide. But we still don't know whether it works.
---