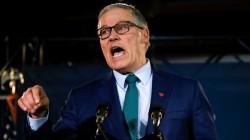 Wednesday - For the first time in years, a broad spectrum of US climate advocates is going on the offensive.

Wednesday - By PHIL McDUFF | Policy tweaks won't fix climate change. We need to throw the kitchen sink at it with a total rethink of our relationship to ownership, work and capital.

Wednesday - Just suppose we could see a way to transform the global economy, society and even the environment so that they met real needs, and promised to go on doing so far into the future. Well, we can. And it's growing simpler all the time, futurologists say.

Wednesday - New research by the UN has found that a temperature rise of up to 3.5deg in the Arctic is now inevitable.

Wednesday - A veteran UK weatherman has called on the BBC and other major broadcasters to radically overhaul their forecasts to incorporate information about climate change.

Tuesday - Major Japanese investors, including those most indebted to coal, are seeking to back large-scale renewables projects across Asia, marking a "monumental" shift that energy market analysts say is "the start of the end for thermal coal".

Tuesday - A new ultra-thin film that absorbs solar energy could revolutionise the harvesting of solar thermal energy.
---
Tuesday - New York City Mayor Bill de Blasio wants to protect Manhattan from climate change by expanding the island's southern shore to keep rising seas at bay.
Tuesday - Armed with solar panels, lanterns and mini-grids, European energy giants hope to capture the data of hundreds of millions of new, increasingly wealthy customers in rural Africa.
Tuesday - If you like chocolate you'll love this: the same tree that provides your indulgent treat is helping to slow climate change, thanks to cocoa fuel.
Monday - The European Parliament have voted in favour of increasing the EU's 2030 emission cuts target to 55 per cent and a net-zero mid-century target, bringing an end to weeks of infighting.
Monday - The fuel used to thrust enormous rockets away from Earth's gravitational pull is hydrogen - and it also holds potential as a source of energy for daily activities like driving and heating houses.
Monday - The US has joined Saudi Arabia to derail a UN resolution that sought to improve the world's understanding of potential efforts to lace the sky with sunlight-reflecting aerosols or use carbon-catching...
Monday - A new study contradicts fears that using solar geoengineering to fight climate change could dangerously alter rainfall and storm patterns in some parts of the world.
Monday - Scientists were warning about the risks of climate change and the burning of fossil fuels before today's world leaders were Greta Thunberg's age.
15 Mar 19 - Earth is sick with multiple and worsening environmental ills killing millions of people yearly, a new UN report says.
15 Mar 19 - As more gigantic cruise ships take to the high seas in the coming years, the industry says it intends to embrace low-carbon technologies and reduce its environmental impact.
15 Mar 19 - Bitcoin can't be green – even when it is powered by renewable energy, an expert says.
15 Mar 19 - Extractive industries are responsible for half of the world's carbon emissions and more than 80 per cent of biodiversity loss, according to a comprehensive new survey.
---