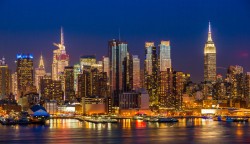 Monday - New York State is making a $5 billion bet that by making its power cleaner, it can become a magnet for the clean-energy jobs of the future.

Thursday - The Trump administration's 2018 fiscal year budget has made good on its promise to target deep cuts to federal spending on programmes widely seen as critical to America's ability to adapt to a warming world and reduce its impact on the climate.

24 May 17 - US firms have been found to be improving their own environmental performance by moving more-polluting activities overseas, where regulations are more lax.

18 May 17 - Fewer than a third of Americans support President Donald Trump's rollback of clean energy plans, a new survey shows.

15 May 17 - US Secretary of State Rex Tillerson has signed a commitment to curb greenhouse gas emissions and to extend scientific cooperation in the Arctic region.

12 May 17 - A Republican move to undo limits on the emission of methane, a powerful greenhouse gas, has suffered an unexpected defeat in the Senate.

11 May 17 - President Donald Trump will not make a decision on whether to pull the United States out of the Paris climate agreement until after he returns from the May 26-27 Group of Seven summit.
---
10 May 17 - A key meeting of White House advisers to discuss the Paris climate change agreement won't happen today as planned.
9 May 17 - Chicago Mayor Rahm Emanuel has responsed to the Trump administration pulling down its website detailing information about climate change by putting up his own.
4 May 17 - Most Americans want a price on carbon, according to new research.
4 May 17 - Atlanta lawmakers have passed a resolution to pursue 100 per cent renewable energy sources, including wind and solar, to power the city by 2035.
2 May 17 - Climate change may now be a part of the gentrification story in Miami real estate.
1 May 17 - President Trump has complained that the United States was being unfairly treated in the Paris Climate Agreement and said he would announce a decision in about two weeks on whether Washington would...
1 May 17 - The People's Climate March, timed to Trump's 100th day as president, came amid a flurry of pro-fossil-fuel policy actions from the White House.
28 Apr 17 - The population of inland American cities will alter drastically if predictions of dramatic sea level rises by 2100 are correct, a new report suggests.
26 Apr 17 - Former New York mayor Michael Bloomberg has urged world leaders not to follow Donald Trump's lead on climate change, and declared his own intention to stave off the "tragedy" that would be the...
21 Apr 17 - Trump administration officials have postponed a meeting scheduled for this week to discuss the US government's position on the Paris climate change agreement.
18 Apr 17 - President Trump's most senior advisers will huddle this week to resolve long-simmering tensions over whether the United States should stay in the Paris climate change agreement.
12 Apr 17 - Carbon emissions from US electric power plants have fallen by about 5 per cent for the second year in a row.
---