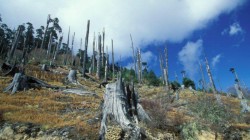 Wednesday - Former UN climate chief Christiana Figures has called on the EU to step up regulatory action against deforestation in the global south by tackling emissions of imported agricultural goods like beef, soy and palm oil.

Wednesday - The impact of rising temperatures on the Caspian Sea is gradually reducing the world's largest inland body of water to catastrophically low levels.

Wednesday - Vancouver - the mountain-fringed, bicycle-friendly, pot-loving host of the 2010 Winter Olympics - wants to be the world's greenest city by 2020.

Wednesday - Finance for electrification of developing countries is flowing at less than half the rate needed to achieve the global goal of universal access by 2030.

Wednesday - London has welcomed the opening of its first package-free food store opened In an effort to eliminate plastic pollution.

Tuesday - Countries are nearing agreement on how to tackle shipping's carbon footprint, UN shipping chief Kitack Lim has told an industry conference, but resistance to a binding cap remains.

Tuesday - The terms of the Paris Agreement are set in stone, the EU, China and Canada agreed at a summit in Montreal at thge weekend, while Washington was forced to deny that the US is planning to stay in the accord.
---
Tuesday - California governor Jerry Brown's climate coalition list of city, state and national governments nears 200 and is shifting climate diplomacy beyond the caprices of national leaders.
Tuesday - Fishing has dramatically reduced the number of senior fish left in the ocean.
Monday - Worldwide emissions of carbon dioxide from the burning of fossil fuels could grow 16 per cent by the year 2040 from the levels of 2015, the year by which the Paris Agreement intended to reverse the...
Monday - The Trump administration is opening the door to offering its own replacement for former President Barack Obama's landmark climate regulation — rather than just erasing it altogether.
Monday - When Angela Merkel addressed the Frankfurt motor show, it was not to a backdrop of revving engines but an exhibition of noiseless electric Golfs, South Korean hybrids and Japanese fuel-cell cars.
Monday - Three new windfarms are to be built in the United Kingdom as offshore wind prices reach their lowest levels ever.
Monday - Even when sitting in uncovered piles, coal can pose dangers to human health.
Monday - Folk legend Joan Baez will join Patti Smith in the line-up for November's historic Pathway to Paris concert for climate action in New York.
15 Sep 17 - The world's chocolate industry is driving deforestation on a devastating scale in West Africa.
15 Sep 17 - Asia's mountain glaciers will lose at least a third of their mass through global warming by the century's end, with dire consequences for millions of people.
15 Sep 17 - The European Parliament has approved a plan to keep commercial flights in and out of Europe exempt from the EU's carbon emission controls until 2021.
15 Sep 17 - China is looking to dominate the high-end of the global solar power market.
---