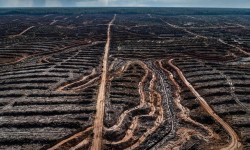 Friday - It's the miracle ingredient in everything from biscuits to shampoo. But our dependence on palm oil has devastating environmental consequences. Is it too late to break the habit?

Friday - A growing movement eschews fast fashion in favour of secondhand clothing. Is this the biggest personal change that can be made for the environment?

Thursday - The scientist who made "global warming" a household term as he fought to popularise the view that greenhouse gases could lead to a dramatic climate change has died aged 87.

Thursday - The world's largest tissue-paper companies are being accused of exacerbating climate change and destroying ancient forests to make toilet rolls.

Wednesday - The world's biggest animals – the largest birds, the bigger mammals and even reptiles, sharks and amphibians – are in increasing danger of extinction.

18 Feb 19 - Dramatic rises in atmospheric methane are threatening to derail plans to hold global temperature rises to 2deg, scientists have warned.

18 Feb 19 - Climate-related disasters have cost the world $650 billion over the past three years, according to a new report.
---
15 Feb 19 - As a movement grows across the world, young people say they want politicians to protect their interests.
14 Feb 19 - Here is a climate forecast that climate scientists, meteorologists, politicians, voters and even climate sceptics can check: the next five years will be warm, and will probably help to complete the...
14 Feb 19 - Buying organic food is among the actions people can take to curb the global decline in insects, according to leading scientists.
14 Feb 19 - The market for environmentally sound building materials is changing. If you think bamboo can just be used to grow beans up in your garden, think again.
13 Feb 19 - China and India are leading the world in greening the landscape, a study finds, with the two countries accounting for one-third of the new forests, croplands and other types of vegetation observed...
13 Feb 19 - A new project hopes to show how emissions reporting should be done, but building trust looks set to play a huge part in overcoming the challenge.
12 Feb 19 - The world's insects are hurtling down the path to extinction, threatening a "catastrophic collapse of nature's ecosystems", according to the first global scientific review.
12 Feb 19 - E-waste is the fastest growing waste stream in the world and a global reboot in the way humans produce and use electronic devices is urgently needed, says a new UN study.
11 Feb 19 - The knee-jerk reaction to sea-level rise has traditionally been to maintain the shoreline's position at all cost, by building new flood defence structures or upgrading old ones.
11 Feb 19 - In these times of rising activism on climate change and other environmental threats, a new band of campaigners has joined the fight: street artists.
7 Feb 19 - Global temperatures in 2018 were the fourth-warmest on record, US scientists have confirmed, adding to a stretch of five years that are now collectively the hottest period since modern measurements...
5 Feb 19 - A boom in cruise liner holidays is raising concerns over the widespread use of "emissions dodging" by global shipping to meet tough new dirty fuel rules next year.
---