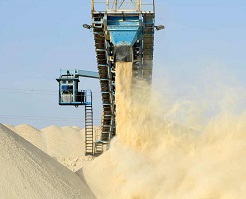 9 Sep 19 - The world faces an "imminent crisis" in the supply of phosphate, a critical fertiliser that underpins the world's food supply, scientists have warned.

5 Sep 19 - Virtual fencing is a new technology that could help cattle farmers to deal with the changing climate by allowing a system of land sharing that delivers sustainability and productivity.

23 Aug 19 - The low-carbon future is hemp, says a company dedicated to making the once-banned product the backbone of the New Zealand economy.

21 Aug 19 - Farming for soil-carbon credits offers landowners in New Zealand and other OECD agricultural countries a vast potential to make money, says a global carbon markets pioneer.

20 Aug 19 - Scientists have completed one of the first studies of the impact of drought and warmer temperatures on living organisms below the ground.

12 Aug 19 - Climate change is now the single greatest issue on farmers' minds, according to the latest Farm Confidence Survey.

26 Jul 19 - The Government's drive to cut greenhouse gas emissions could see horticultural land taken over by a dairy industry being squeezed by expanding forestry, MPs have been told.
---
25 Jul 19 - Dairy farmers are backing the Government's plan to cut methane emissions by 10 per cent by 2030, telling MPs it is achievable.
16 Jul 19 - A farm in Portugal is showing how the ancient art of silvopasture – combining livestock with productive trees – might offer some real answers to the climate crisis.
15 Jul 19 - Farmers facing falling log exports and prices for timber from woodlots are being urged to consider a new market – bioenergy.
4 Jul 19 - Farmers say they are prepared to cut methane emissions by 10 per cent by 2050 – well short of the target the Government intends imposing.
1 Jul 19 - The prospect of having to cut methane emissions by 10 per cent over the next decade is depressing otherwise optimistic farmers.
17 Jun 19 - The National Party says it will continue to oppose bringing agricultural emissions into the Emissions Trading Scheme.
10 Jun 19 - The farming sector isn't the only industry that should be targeted for methane reductions, the National Party says.
5 Jun 19 - It's World Environment Day – and officials are telling New Zealanders to mark it by eating less meat.
4 Jun 19 - Almost half New Zealand's farmers don't think they should have to cut greenhouse gas emissions from their operations – yet most are willing to do it if they can be convinced it won't cost them money,...
6 May 19 - Former National Party leader and one-time Reserve Bank Governor Dr Don Brash might have had doubts in the past about whether humans are changing the climate, but now he's throwing his money and...
3 May 19 - Agricultural finance specialist Rabobank is telling farming customers to think about carbon farming, saying it could be more profitable than farming animals.
1 May 19 - A New Zealand scientist says his technology could slash New Zealand's greenhouse gas emissions, earning carbon credits for farmers and boosting farm production.
---