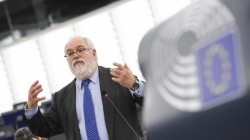 Monday - The European Parliament have voted in favour of increasing the EU's 2030 emission cuts target to 55 per cent and a net-zero mid-century target, bringing an end to weeks of infighting.

Monday - The fuel used to thrust enormous rockets away from Earth's gravitational pull is hydrogen - and it also holds potential as a source of energy for daily activities like driving and heating houses.

Monday - The US has joined Saudi Arabia to derail a UN resolution that sought to improve the world's understanding of potential efforts to lace the sky with sunlight-reflecting aerosols or use carbon-catching fans.

Monday - A new study contradicts fears that using solar geoengineering to fight climate change could dangerously alter rainfall and storm patterns in some parts of the world.

Monday - Scientists were warning about the risks of climate change and the burning of fossil fuels before today's world leaders were Greta Thunberg's age.

Friday - Earth is sick with multiple and worsening environmental ills killing millions of people yearly, a new UN report says.

Friday - As more gigantic cruise ships take to the high seas in the coming years, the industry says it intends to embrace low-carbon technologies and reduce its environmental impact.
---
Friday - Bitcoin can't be green – even when it is powered by renewable energy, an expert says.
Friday - Extractive industries are responsible for half of the world's carbon emissions and more than 80 per cent of biodiversity loss, according to a comprehensive new survey.
Friday - The UK Government has announced plans to end fossil fuel heating systems in new houses from 2025.
Thursday - Sharp and potentially devastating temperature rises of 3deg to 5deg in the Arctic are now inevitable even if the world succeeds in cutting greenhouse gas emissions in line with the Paris agreement,...
Thursday - The number of early deaths caused by air pollution is double previous estimates, according to research, meaning toxic air is killing more people than tobacco smoking.
Thursday - Australia's high rates of forest loss and weakening land clearing laws are increasing bushfire risk, and undermining the country's ability to meet national targets aimed at curbing climate change.
Thursday - As human growth adds to our numbers and demands, other species' survival chances shrink. Scientists can now name 1,700 creatures at ever greater risk.
Wednesday - The Trump administration's latest budget proposal would radically reduce new spending on federal programs for advancing clean energy.
Wednesday - Nearly 14 per cent of global greenhouse gas emissions will be subject to a carbon price this year, World Bank figures show.
Wednesday - Sales of synthetic chemicals will double over the next 12 years with alarming implications for health and the environment, according to a new global study.
Wednesday - Modern coal-fired power stations produce more ultrafine dust particles than road traffic and can even modify and redistribute rainfall patterns, a new 15-year international study shows.
12 Mar 19 - By 2050, half the world's population could be at risk of mosquito-borne diseases like dengue fever or the Zika virus, new research suggests.
---