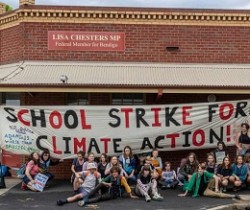 8 Nov 18 - Hundreds of students around Australia are preparing to strike from school because of what they say is a failure by politicians to recognise climate change as an emergency.

7 Nov 18 - The record hot weather being experienced across prts of Australia is now the new normal as the effects of climate change become baked-in.

7 Nov 18 - Insects near waste water could give a platypus or trout half a daily human dose of antidepressants, a new study reveals.

6 Nov 18 - In the parlance of climate science, a "tipping point" is a dire prospect – a critical threshold breach that triggers an abrupt and rapid change in climate.

2 Nov 18 - New South Wales has launched one of the most significant energy transition projects in Australia designed to help to replace most of the state's ageing coal plants with wind, solar and storage.

31 Oct 18 - The relentlessly corrosive nature of Australian political debate about climate change can sometimes mask that this is a golden moment for the clean energy industry.

29 Oct 18 - July 2018 in Darwin was 2deg hotter than any previous July and the record heat has continued. Surveys show that it's the reason people are leaving the city.
---
26 Oct 18 - If the Wentworth and Wagga Wagga by-elections in Austraia were supposed to send a message to the Coalition government about the need to act on carbon emissions and embrace renewables, it hasn't...
25 Oct 18 - The Australian Renewable Energy Agency has announced funding to produce renewable hydrogen from wind and solar power.
24 Oct 18 - Energy minister Angus Taylor has signalled the Australian government could indemnify new power generation projects against the future risk of a carbon price, and says it could also support the...
24 Oct 18 - Drivers travelling between Australia's major cities could soon charge their electric vehicles in just 15 minutes with a super-fast network being rolled out across the country.
17 Oct 18 - Economist Jeffrey Sachs has criticised successive Australian governments for "defending a 19th or 20th century industry" rather than taking decisive action on climate change, saying Australia should...
16 Oct 18 - Australia's chief scientist Alan Finkel says the question facing the nation's energy future is not about renewables versus coal but how best to create "a whole-of-economy emissions reduction...
15 Oct 18 - A new study shows that 43 per cent of Ausralian farmers accept climate change poses a risk to their region, compared with just 32 per cent five years ago.
10 Oct 18 - The Australian government has rejected the Intergovernmental Panel on Climate Change report's call to phase out coal power by 2050, claiming renewable energy cannot replace baseload coal power.
9 Oct 18 - Prime Minister Scott Morrison has resisted conservatives' calls to withdraw Australia from the Paris Climate Agreement but ruled out providing more money to the global climate fund.
5 Oct 18 - Australia is in a position to replace thermal coal exports with the export of renewable energy technologies if the parliament can settle an energy policy and end a decade of policy chaos, Labor...
3 Oct 18 - The renewable energy construction boom in Victoria is on track to create more than 6000 annual jobs, according to a new analysis.
1 Oct 18 - Australia's greenhouse gas emissions continue to rise, fuelled by expansion in gas exports and production, according to new figures.
---