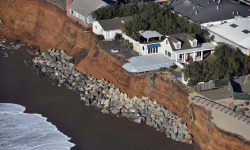 Thursday - As a trio of lawsuits in California claim compensation for sea rises resulting from fossil fuel emissions, campaigners say carbon majors must change their business models.

21 Jul 17 - Several flood-prone municipalities in California filed first-of-their-kind lawsuits against fossil fuel companies this week as they attempt to recoup the cost of coping with rising seas.

19 Jul 17 - California lawmakers have voted to extend the state's signature programme for cutting greenhouse gas emissions.

19 Jul 17 - Geeks are inventing ways to keep Los Angeles cool with products and services that aim to avert environmental disaster – and make a profit.

18 Jul 17 - California Governor Jerry Brown and Michael Bloomberg have announced the launch of America's Pledge, which will allow US states, cities and businesses to stay aligned with the Paris Agreement.

18 Jul 17 - An Italian multinational oil and gas company has received permission to move ahead with drilling plans in federal waters off Alaska.

14 Jul 17 - California lawmakers are expected to vote next week on legislation to extend the state's landmark cap-and-trade programme, the country's most progressive, statewide attempt to cut greenhouse gas emissions.
---
5 Jul 17 - Since January, the White House, Congress and EPA have engineered a dizzying reversal of regulations designed to protect the environment and public health.
5 Jul 17 - Yet another study has exposed the cruel cost of climate change as it increases US poverty. It could be worse than the Great Recession.
30 Jun 17 - Golfball sized hail that can crack car windscreens, damage roofs and decimate crops are set to become the norm across parts of North America as a result of climate change.
22 Jun 17 - Oil giants ExxonMobil, Shell, BP and Total are among a group of large corporations supporting a plan to tax carbon dioxide emissions.
22 Jun 17 - Major corporations such as Wal-Mart and General Motors have become some of America's biggest buyers of renewable energy.
22 Jun 17 - A heat wave across the American West has sent the mercury above 120degF in places like Phoenix - so hot some airlines have had to cancel flights.
21 Jun 17 - US scientists have just worked out how many lives, and at what price, solar power can deliver.
21 Jun 17 - Shelf-stockers and purveyors of locally sourced organic produce give a wary welcome to Jeff Bezos's buyout of the market that changed their town.
21 Jun 17 - Producing a few pounds of weed can have the same environmental toll as driving across America seven times – harming cities' and states' plans to curb emissions.
16 Jun 17 - As rising seas and demands for fresh water threaten San Francisco area shorelines, the focus is on building tidal marsh.
16 Jun 17 - Combined wind and solar energy accounted for more than 10 per cent of US power generation in March - the highest ever share of renewable energy in the nation's power mix.
14 Jun 17 - Jayden Foytlin, a 14-year-old hurricane survivor, is suing the US government over climate change in one of the most surprising environmental lawsuits of our time.
---