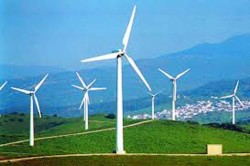 16 Aug 19 - Europe has enough space to create millions of wind turbines that could power the entire world until 2050, according to a new scientific analysis.

12 Aug 19 - The UK government has announced the Scottish city of Glasgow would be the stage for next year's UN climate talks.

2 Aug 19 - The Mediterranean Sea is the most waste-polluted sea in Europe, according to a 20-year study.

1 Aug 19 - Marseille Provence Airport has been forced to revisit expansion plans, after the environment authority questioned how they fit with France's climate targets.

29 Jul 19 - The European Investment Bank has vowed to end its multibillion euro financing for fossil fuel projects by the end of next year.

26 Jul 19 - New European Commission chief Ursula von der Leyen must tread carefully if she is to meet her promise to make polluting importers pay.

17 Jul 19 - Ursula von der Leyen has been confirmed as the first women president of the European Commission in a nail-biting vote that put climate change centre stage.
---
12 Jul 19 - Europe should become the world's first climate-neutral continent, says Ursula von der Leyen, who is chasing the European Commission's top job.
12 Jul 19 - The French government announced that it will roll out a tax on all international flights departing from France starting in 2020.
8 Jul 19 - A new industry association has been launched in Brussels with the aim of bringing together all the players in the supply chain of rare earth metals.
2 Jul 19 - Ireland's Citizens' Assembly process has been praised internationally, but citizens' assemblies are not without their critics.
1 Jul 19 - In a deal with other left parties, Denmark's new Social Democrat government has agreed to raise the country's climate targets and place the green transition at the heart of policy.
1 Jul 19 - A temperature of 45.1deg has been recorded in France, the hottest in the country's history.
24 Jun 19 - The European Council has failed to agree on a landmark climate strategy for 2050 as the Czech Republic, Estonia, Hungary and Poland baulked at the mention of a specific date.
19 Jun 19 - Germany, Greece, Italy and Slovenia have added their names to a growing list of EU countries supporting a carbon neutrality objective for 2050, increasing the chances that a deal will be struck at a...
18 Jun 19 - Ireland has unveiled an ambitious plan to tackle the climate emergency by weaning the state, businesses, farms and households off fossil fuels.
5 Jun 19 - Finland is outbidding New Zealand in the drive to carbon-neutrality, saying its economy will be effectively carbon-free by 2035 - 15 years earlier than New Zealand plans to get there.
29 May 19 - Europe's Greens, big winners in the weekend's EU elections, will use their newfound leverage in a fractured parliament to push an agenda of urgent climate action, social justice and civil liberties,...
28 May 19 - With its new reactors needing modifications and its older ones awaiting costly updates, France's nuclear industry is in trouble.
---