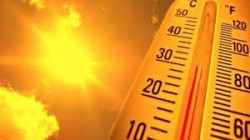 Friday - New Zealand's greenhouse gas emissions from energy were up in the first three months of this year compared to the same time last year – with record temperatures meaning less water was available for hydro-electric generation.

Friday - The loss of sea ice from the Arctic Ocean will alter wind patterns and ocean currents, causing changes across the planet.

Friday - Bolivian farmers are going underground in order to protect their crops from drought, flash floods and increasing temperatures.

Friday - The Asian Infrastructure Investment Bank is backing a coal-fired cement works in Myanmar through an intermediary, in a worrying sign for its climate credentials.

Friday - The latest eco-drive has taken hold in middle-class heartlands in a way that this time it might just mean widespread, permanent changes to the ways we live and consume.

Thursday - Climate campaigner James Hansen, who gave a climate warning in 1988 US Senate testimony, says the world is failing and the real hoax is by leaders claiming to take action.

Thursday - An extra $460 billion a year needs to be invested in the low-carbon economy globally over the next 12 years to limit climate warming to 1.5deg, a new paper says.
---
Thursday - London-based Legal & General, which has close to £1 trillion worth of assets under management, has released its latest assessment of how 84 global corporations are responding to the risks posed by...
Thursday - Australian investment group Macquarie has offered £500 million to finance green projects.
Thursday - Norway has tested a two-seater electric plane and predicted a start to passenger flights by 2025 if new aviation technologies match a green shift that has made Norwegians the world's top buyers of...
Thursday - A group of 37 major European banks are joining forces to launch a new energy efficiency scheme.
Wednesday - China will take action to curb the "blind" development of its rapidly growing electric vehicle sector, says a state planning spokeswoman.
Wednesday - Managers of the £1.5tn invested in Britain'sworkplace pension schemes are to be given new powers to dump shares in oil, gas and coal companies in favour of long-term investment in green and "social...
Wednesday - Many EU countries are veering off the course of action they committed to under the Paris Agreement, according to a new report.
Wednesday - The City of London Corporation has announced plans to source 100 per cent of its electricity from renewables.
Wednesday - Women must be at the heart of climate action if the world is to limit the deadly impact of disasters such as floods and storms, says former Irish president Mary Robinson.
Tuesday - European Union lawmakers and member states have agreed on a renewable energy law, including support for electric vehicles and rooftop solar panels.
Tuesday - More than 150,000 US homes and businesses could face frequent high-tide flooding within 15 years. That could double by 2045, a new report says.
Tuesday - South Africa will set carbon targets for each sector of the economy every five years, under a draft climate law out for public consultation.
---