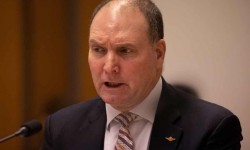 Wednesday - The head of Scott Morrison's handpicked National Covid-19 Commission advisory board has confirmed that it has recommended that the federal government use taxpayer funds to underwrite new gas industry infrastructure while concluding that no support is needed for renewable energy.

6 Aug 20 - Former Australian Prime Minister Julia Gillard has warned against a feeling of "received helplessness" that policies to reduce greenhouse gases are "all too hard", citing the carbon price legislated by her government as proof climate policy "can get done".

24 Jul 20 - What do bike paths and walk-friendly streets have to do with economic recovery from a pandemic-induced recession? How could removing a car parking space benefit a local business? Instead of considering such questions, building roads for cars is often seen as the obvious answer to "kick-start" the economy.

23 Jul 20 - A Melbourne university student has launched what has been described as a world-first legal case against the Australian government, accusing it of misleading investors in sovereign bonds by failing to disclose the financial risk caused by the climate crisis.

20 Jul 20 - The Grattan Institute's call to abandon plans for any high-speed rail network in Australia fails to look at the wider benefits such a project can bring by way of more productive economies and more sustainable towns and cities.

20 Jul 20 - Transit agencies are asking Congress for relief as commuters return to their cars and fare revenues tank. Meanwhile, driving direction requests - and carbon emissions - soar.

20 Jul 20 - The New South Wales government has awarded almost $1m from a regional grants fund to a company developing what deputy premier John Barilaro describes as an electric flying car.
---
16 Jul 20 - After 3000 people in nine public housing towers in Melbourne were placed under the harshest coronavirus lockdown in Australia so far, acting Chief Medical Officer Paul Kelly referred to the towers as...
10 Jul 20 - One of Australia's biggest industry superannuation funds plans to sell down its investments in thermal coal miners in a bid to protect its members from the financial impact of climate change.
7 Jul 20 - Australia has been ranked third behind South Korea and Latvia in a global report on the effectiveness of its response to the covid-19 pandemic -- but 37th in in the fight against climate change.
2 Jul 20 - Despite three decades of relative inaction on climate change and stalling from successive Australian Governments, the Morrison Government has claimed success in meeting Australia's targets under the...
11 Jun 20 - Federal environment minister Sussan Ley has rejected a $100m wind farm proposal in central Queensland on the ground it would clear old-growth forest important to vulnerable species, including the...
4 Jun 20 - The future of universities will involve articulating their unique role as embedded, ethical generators of crucial knowledge and skills, well-equipped to handle coming contingencies and helping others...
28 May 20 - Every few years, the idea that gas will help Australia transition to a zero-emissions economy seems to re-emerge, as if no one had thought of it before.
28 May 20 - Since last summer's bushfire crisis, there's been a quantum shift in public awareness of Aboriginal fire management.
26 May 20 - Ian Dunlop - the former head of the Australian Coal Association - worries about his grandchildren. He worries time is running out.
25 May 20 - Australian businesses, unions, investors and environmentalists are joining forces in a call for a covid-19 pandemic economic recovery programme based on energy efficiency.
25 May 20 - Leading health professionals, including a Nobel laureate and a former Australian of the Year, say the Australian Government must put human health "front and centre" in a new generation of environment...
22 May 20 - Australia's oil and gas producers have warned against the Morrison government underwriting a massive expansion of the domestic industry, saying the country does not have a gas shortage and...
---