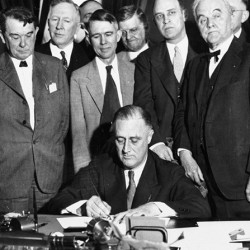 Tuesday - In a Democratic clash on Capitol Hill, progressives are pushing an ambitious plan to wean the U.S off fossil fuels. Meet the "Green New Deal."

Tuesday - Damage from climate change to key US military shipyards would undermine the Pentagon's ability to respond to military crises and counter China's ambitions.

Monday - The largest US West Coast commercial fishing association is suing 30 fossil fuel companies it says are accountable for harming shellfish and livelihoods as the ocean warms.

15 Nov 18 - The Trump administration plans to cut air pollution from heavy-duty trucks, marking one of its first moves to regulate US industry rather than roll back environmental standards.

13 Nov 18 - They've taken on polluters and built climate solutions. Now they're bringing activism to Congress in one of the most diverse freshmen classes in US House history.

13 Nov 18 - Since his first day on the job, when he surrounded himself with a police escort and rode through Washington on a horse named Tonto, US Interior Secretary Ryan Zinke has exhibited a flair for ostentation.

9 Nov 18 - John F. Kennedy was warned about "climate control" in February 1961, becoming perhaps the first American president to learn about people's impact on planetary temperatures.
---
8 Nov 18 - With their win of control of the US House of Representatives, Democrats will now have the numbers to put climate change issues back on the Congressional agenda.
6 Nov 18 - Two weeks after it put the case on hold, the US. Supreme Court has allowed a lawsuit brought by 21 children and young adults against the federal government over climate change to proceed.
2 Nov 18 - The big three US vehicle makers - GM, Ford and Fiat Chrysler - talk about a cleaner future, but in reality are pushing the sales of gas-guzzling SUVs and utes.
1 Nov 18 - While violence and poverty have been cited as the reasons for the Central Amica exodus, experts say the big picture is that changing climate is forcing farmers off their land – and it's likely to get...
24 Oct 18 - More than a dozen scientists are candidates for US House and Senate seats this year in a wave fueled by the Trump Administration's anti-science agenda.
23 Oct 18 - Greenhouse gas emissions from the largest US industrial plants fell 2.7 per cent in 2017 as coal plants shut, according to the Trump administration.
23 Oct 18 - President Trump's administration has for a second time asked the US Supreme Court to put the brakes on a lawsuit filed by young activists who have accused the government of ignoring the perils of...
18 Oct 18 - A lawyer for a group of young Americans suing the federal government over climate change said a judge's decision to allow the suit to move forward should clear the way for a trial to begin this month.
17 Oct 18 - US President Donald Trump, speaking during a hurricane recovery briefing in Georgia, said he believes "there is something there" when asked about climate change, but once again cast doubt on the...
8 Oct 18 - Summers in my home city of Seattle didn't use to be smoggy to the point that they make me and my friends sick. Now they are – and that violates our rights.
26 Sep 18 - By the end of this century, sea-level rises alone could displace 13 million Americans. Many states will have to grapple with hordes of residents seeking dry ground.
25 Sep 18 - The United States stands to lose a lot more from climate change than it realises.
---