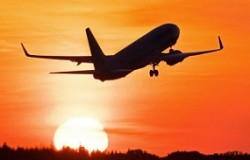 Tuesday - Fears over climate change have led many to rethink the way they travel and, in Sweden, they've even invented a new word for the shame associated with flying.

18 Apr 19 - Europe needs its own Green New Deal to stave off the perfect storm of populism, climate change and economic crisis.

17 Apr 19 - A Finnish political party that campaigned against ambitious climate change policies has won the second-highest number of seats in parliamentary elections.

10 Apr 19 - Human appetites drive global rainforest destruction. Now science has measured how Europe's food imports leave scorched tropical soils and greenhouse gases.

4 Apr 19 - Germany's Greens want to stabilise their steep rise in popularity and formulate new basic principles. What do they want to do differently?

3 Apr 19 - While Germany and Eastern European countries continue to oppose raising the EU's 40 per cent emission reduction target for 2030, a new analysis insists the bloc will actually manage at least 50 per cent cuts under a business-as-usual scenario.

3 Apr 19 - Low-cost carrier Ryanair has made it to the list of Europe's top 10 carbon emitters, meaning it now ranks as high as the continent's coal power plants in terms of pollution.
---
2 Apr 19 - Slovakia's first female president, Zuzana Èaputová, will challenge long-standing industrial interests and the financing of coal mining after being elected at the weekend.
18 Mar 19 - The European Parliament have voted in favour of increasing the EU's 2030 emission cuts target to 55 per cent and a net-zero mid-century target, bringing an end to weeks of infighting.
11 Mar 19 - Norway is planning to ditch some oil and gas stocks from the country's $1 trillion sovereign wealth fund, but has exempted majors like Shell and Exxon Mobil.
11 Mar 19 - The largest body of ice in the northern hemisphere faces a problem scientists had not identified before: Greenland's winter rain is accelerating the loss of its vast store of ice.
6 Mar 19 - Extreme weather events have been the "main driver" of an olive harvest collapse that could leave Italy dependent on imports.
6 Mar 19 - Top business leaders believe that the transition to a climate neutral economy will create new opportunities for Europe.
4 Mar 19 - The Finnish parliament has approved a government proposal to ban the use of coal to produce energy from May 1, 2029.
4 Mar 19 - The European Commission has invested more than €10 billion in clean technology to boost its global competitiveness.
1 Mar 19 - An Italian who run a bookshop cafe is giving free books to children in exchange for plastic bottles and aluminum cans.
27 Feb 19 - A group of experts has published a draft treaty for a sweeping European climate finance pact, to inject more than a trillion euros into the fight against global warming.
26 Feb 19 - The German environment ministry is calling for an ambitious goal to cut emissions by "at least 95 per cent" by 2050 and remove the remainder from the atmosphere.
25 Feb 19 - Schoolkids are on climate strike "because we have done our homework" and listened to science, 16-year-old green activist Greta Thunberg has told EU policymakers in Brussels. "Just unite behind the...
---