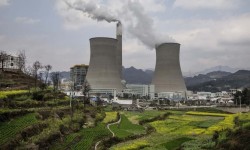 Friday - The renewed upward march of global carbon emissions is worrying and a big step backwards in the fight against climate change, according to BP.

Friday - By ADAM FRANK | In 1968, the astronaut William Anders looked out from his moon-circling Apollo 8 capsule and saw the mottled blue Earth emerging over the gray lunar horizon.

Friday - The Dow Chemical Company says it has saved $120 million over the past year from its 'valuing nature' project.

Friday - The Scottish Government says that as of 2016 the country has managed to reduce greenhouse gas emissions by 49 per cent compared to 1990.

Friday - Elon Musk will cut his work force by about 9 per cent, or roughly 3500 of Tesla's 37,500 employees, as part of a company-wide restructuring.

Friday - Australia's reluctance to recognise electric vehicles could mean that eventually it will join Cuba as the globe's Jurassic Park for cars.

Thursday - The US Dust Bowl in the 1930s was one of the worst environmental disasters of the 20th century.
---
Thursday - Enough concrete has been produced to cover the entire surface of the Earth in a layer two millimetres thick.
Thursday - Two new studies looking at corn and vegetables warn of a rising risk of food shocks and malnutrition with unchecked global warming.
Thursday - The shrinking Sea of Galilee, the inland lake where Christians believe Jesus walked on water, is to be topped up with desalinated seawater.
Thursday - Climate change is the suspect in the abrupt deaths in the past decade of some of Africa's 2500-year-old baobab trees.
Wednesday - New research provides a way out of a longstanding quandary in climate policy: how best to account for the warming effects of greenhouse gases that have different atmospheric lifetimes.
Wednesday - Britain's biggest asset manager wants to remove the chairmen of the board at eight companies worldwide, which it says have failed to confront the threats posed by climate change.
Wednesday - The EU is near agreement on measures to put its 2030 climate target into action, with a meeting of energy ministers swinging towards more ambition.
Wednesday - Communities would get more value by spending before a disaster, instead of after, says an insurance industry leader.
Wednesday - On NSW's Liverpool plains, cows are being slaughtered because there is no way of feeding them after years of extreme weather.
Wednesday - Daimler, the largest truck manufacturer in the world, is eyeing up the prizes to be won from electric vehicles.
Wednesday - Soccer fans travelling to Russia for the World Cup beginning this week are being encouraged to offset their emissions through a UN scheme that critics describe as fundamentally flawed.
12 Jun 18 - Divestment from fossil fuels has become one of the fastest growing political campaigns in human history, surpassing similar battles against the tobacco industry and the fight against apartheid in...
---