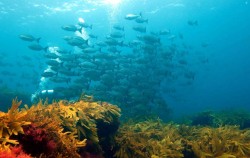 11 Jun 18 - Climate change is warming ocean waters and causing shifts in the distribution and abundance of seaweeds, corals, fish and other marine species.

31 May 18 - An invisible layer of scum on the sea surface can reduce carbon dioxide exchange between the atmosphere and the oceans by up to 50 per cent, scientists have discovered.

22 May 18 - The kelp forests – those towering submarine tangles of brown seaweeds – might not survive the steady change of ocean chemistry.

21 May 18 - Point Nemo in the Pacific is so far flung that the nearest humans are often those aboard the International Space Station. But even that hasn't saved it from the scourge of microplastics.

9 May 18 - The world has more than 400 dead zones in oceans and lakes where water contains so little oxygen that aquatic life can't survive.

16 Apr 18 - Acting early to lower greenhouse gas emissions can slow the rise in sea levels, say scientists in two new studies.

13 Apr 18 - The Atlantic current that brings warm water to Europe from the tropics has weakened by 15 per cent since the middle of the last century, new research suggests.
---
12 Apr 18 - Albatrosses wearing trackers could be a weapon against illegal fishing.
11 Apr 18 - The marine heatwave which has seen penguins, prions and other New Zealand birds dying this summer is part of a new "normal" caused by climate change, scientists say.
29 Mar 18 - As the planet warms, giant icebergs and sea ice that once would have remained trapped in the frozen Arctic are moving southward faster and more frequently, menacing shipping and oil and gas drilling...
27 Mar 18 - A vast area of plastic waste in the ocean between California and Hawaii is much larger than previously estimated .. and it's growing rapidly.
23 Mar 18 - A major new report for the UK Government has highlighted the huge economic potential presented by the world's oceans.
8 Mar 18 - Damage to coral reefs could mean that by 2100 some Pacific Islands could experience waves reaching the shore at more than twice the height of today's seas.
6 Mar 18 - Data gathered from more than 70,000 vessels shows commercial fishing now covers a greater surface area than agriculture.
1 Mar 18 - Many of the world's coral reefs could begin to erode within 30 years as a result of increasing ocean acidity, according to new research.
1 Mar 18 - The Southern Ocean – the 20 million-square kilometre stretch of sea that encircles the earth south of the 60th parallel – released vast amounts of carbon dioxide the last time the Earth warmed,...
26 Feb 18 - A foundation set up by actor Leonardo DiCaprio is one of the investors that worked on a deal that has led to the Seychelles creating protected areas "the size of Great Britain" in the Indian Ocean.
21 Feb 18 - The world is now locked into sea-level rise of up to 1.2 metres – and the number goes up 0.2m for every five years that emissions cuts are delayed, scientists say.
19 Feb 18 - The rate of sea level rise is accelerating so fast that some coastal communities could confront an additional 100mm per decade by the end of the century
---