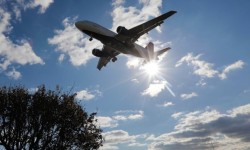 Thursday - British Prime Minister Boris Johnson's "jet-zero" goal of a commercial transatlantic flight producing no carbon emissions by 2025 is a gimmick, according to experts, who say technology alone cannot solve the impact of global aviation on the climate crisis.

Thursday - Norway is doubling the price it guarantees developing nations to keep their tropical forests standing, in a step to slow catastrophic losses and encourage big companies to invest far more in nature to combat climate change.

Wednesday - New Zealand is not alone in considering a carbon border-tax on steel; steelmakers in Europe say they need a "Green Deal" to protect them from high-emissions imports from China.

Wednesday - Can you put a price on pollution? Some of the world's biggest economies are doing just that as they wrestle with how to make good on grand pledges to tame planet-warming emissions.

Wednesday - Financing for coal projects is drying up at ever increasing rates as more countries target zero carbon emissions amid an energy transition sweeping the world, participants at Asia's biggest gathering of the coal industry said on Tuesday.

Tuesday - Climate-heating gases have reached record levels in the atmosphere despite the global lockdowns caused by the coronavirus pandemic, the UN's World Meteorological Organisation has said.

Tuesday - Dozens of oil and gas companies have committed to report more accurately on and, ultimately, reduce emissions of the potent greenhouse gas methane which is liable to leak from oilfields and pipelines.
---
Tuesday - Once again, researchers have shown that it should be possible to feed the human race and leave enough space for the rest of creation, simply by going back to centuries-old mixed farming practices.
Tuesday - Extinction Rebellion is launching a campaign of financial civil disobedience aimed at exposing the "political economy's complicity" in the unfolding ecological crisis.
Tuesday - From the street, you wouldn't be able to tell a net-zero or passive house from any other recently built home. Even from the inside, the only visible clues are thick walls and deep windowsills. Only...
Monday - Out-going United States president Donald Trump railed against the Paris climate accord overnight, telling world leaders at a virtual summit that the agreement was designed to cripple the US economy,...
Monday - Parents and grandparents, not the so-called Generation Green, are the most likely groups to try to minimise their environmental footprint, a new study finds.
Monday - The European Commission has launched "the world's first ever 'green-list'" of sustainable economic activities for private investors by publishing draft guidelines under the EU's green finance...
Monday - British billionaire Chris Hohn is aiming to force hundreds of US and European companies to slash their greenhouse gas emissions by enlisting global investors to demand an annual vote on their climate...
Monday - Prime Minister Justin Trudeau has presented a bill to commit Canada to cut its emissions to net zero by 2050 and set five-year targets to meet the goal.
Monday - Just one per cent of the population is responsible for half of global emissions from aviation, a study shows.
20 Nov 20 - The European Commission will consider hydrogen produced from nuclear power as "low-carbon", says a senior EU official who spoke in the European Parliament this week.
20 Nov 20 - Many parts of the global economy, especially agriculture and the cement and steel industries, are heading in the wrong direction or cleaning up their act far too slowly to limit global warming to...
20 Nov 20 - Mary Heglar has a "maniacal plan" to save the planet. It doesn't involve shutting down pipelines or protesting in the streets. Heglar has simply been "trolling the shit out of fossil fuel companies"...
---