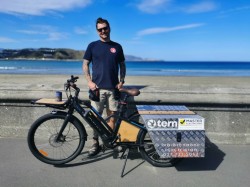 Today 11:15am - BY JEREMY ROSE - When Andy Dynan set himself up as an independent electrician, just over a year ago, he did what most tradies do and bought himself a 4 x 4 Toyota Hilux. The ute – New Zealand's most popular vehicle is now on TradeMe – and Andy's getting around on an e-bike.

Wednesday - Landcorp dairy farms that have gone organic have made big cuts to their GHG emissions and increased their profitability.

Wednesday - Organics NZ has an online launch of its market report for 2020/2021 today.

9 Apr 21 - Tens of thousands of school students will take to the streets from Auckland to Invercargill today.

9 Apr 21 - Levels of the two most important anthropogenic greenhouse gases, carbon dioxide and methane, continued their unrelenting rise in 2020 despite the economic slowdown caused by the coronavirus pandemic response.

7 Apr 21 - Tomorrow Professor Frank Convery – founding director of the Earth Institute, University College Dublin, and expert on the low emission transition in Ireland's agriculture sector - in conversation with Climate Commissioners Catherine Leining and Dr Harry Clark.

6 Apr 21 - The annual Carbon Market Survey is now open, with the report due out in May.
---
1 Apr 21 - The annual Carbon Market Survey is now open, with the report due out in May.
31 Mar 21 - Emissions returns close today – miss the deadline without an extension in place and you could face some stiff penalties.
30 Mar 21 - Tomorrow is the last day for emissions returns.
29 Mar 21 - Motu Research holds a business briefing today on a report on voluntary carbon credits to be released on tomorrow.
26 Mar 21 - Submissions on the Climate Change Commission's draft recommendations close on Sunday.
25 Mar 21 - Nearly 60 per cent of New Zealanders say they lack the information necessary to change their personal or household carbon footprints.
24 Mar 21 - Motu holds business briefings today and next Monday on an about-to-be-released report on using voluntary carbon credits.
23 Mar 21 - Parliament sits today, tomorrow and on Thursday this week.
22 Mar 21 - A United Nations report suggests countries that have done well in containing the covid-19 pandemic are well-placed to take the sorts of collective actions necessary to combat climate change.
22 Mar 21 - Parliament sits on Tuesday, Wednesday and Thursday this week.
19 Mar 21 - Today is the last day to make submissions on the Greater Wellington Regional Council's transport plan.
18 Mar 21 - New Zealand business and political leaders are going cool on the idea that hydrogen has a significant role to play in the country's transition to a carbon-neutral economy.
---