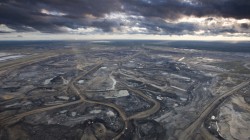 Today 11:00am - Exxon Mobil is under mounting pressure to address the collision course between its business model and climate protection, ahead of its annual general meeting this week.

Today 11:00am - Almost a century of lead mining and smelting has poisoned generations of children in the Copperbelt town of Kabwe in Zambia.

Monday - Donald Trump's intentions regarding US participation in the Paris climate deal remained unknown yesterday.

Friday - The world's major economies could boost their long-term economic growth by 2.8 per cent with policies that lower greenhouse gas emissions and boost resilience to climate change impacts.

Friday - Pope Francis gave visiting US President Donald Trump a copy of his seminal, 183-page encyclical letter - published in June 2015 - on the subject of climate change. If Trump reads it, what will he learn?

Friday - The European Food Safety Authority dismissed a study linking glyphosate to cancer following counsel with an EPA official allegedly linked to the maker Monsanto and who figures in more than 20 lawsuits.

Friday - Ocean warming and acidification are hurting the nutritional value - and the taste - of some seafood.
---
Thursday - Shareholders in Shell have rejected proposals for the oil giant to set public emission reduction targets at its annual general meeting in the Netherlands.
Thursday - Governments around the world are increasingly being challenged in court to do more to combat the threat of climate change.
24 May 17 - China plans to expand its scientific research in Antarctica in coming years amid worries over the area's susceptibility to climate change, but has no immediate plans to mine or develop natural...
24 May 17 - By MARK BOYLE | We're domesticating areas instead of protecting them. Living without technology I've found my place in the natural world – and this path could be our salvation.
23 May 17 - A new study has found a steady growth of moss in Antarctica over the past 50 years as temperatures increased as a result of climate change
22 May 17 - Developing countries and green groups want to limit conflicts of interest in the global climate talks. Corporate lobbyists and rich countries oppose the plan.
22 May 17 - A fortnight of climate talks in Bonn ran smoothly enough, but political tensions await the Pacific islands presidency at the next summit in November.
19 May 17 - People around the world are sufferng from ecoanxiety, a feeling of impending environmental doom.
19 May 17 - Multinational supermarket Tesco has pledged to source all of its electricity from renewables by 2030 in addition to cutting its emissions by 60 per cent by 2025.
18 May 17 - A plague of armyworms is marching across Africa, devastating crops, and claiming new territory at an alarming rate
17 May 17 - If over-grazing continues to cause soil degradation, we won't be able to feed people in the future. The answer? Eat grass-fed sustainable meat – or none at all.
16 May 17 - SWEEPING climate policy rollbacks by US President Donald Trump will be outweighed by cuts to coal consumption in India and China, a new analysis shows.
---