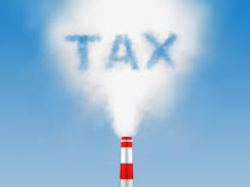 Tuesday - Is taxing or trading the best way to get New Zealand's emissions down?

18 Aug 17 - Our core ecological problem is not climate change. It is overshoot, of which global warming is a symptom

17 Aug 17 - New Zealand's climate change policy is an "unholy mess" that won't be fixed if the Cabinet doesn't want it to be, says former prime minister and constitutional expert Sir Geoffrey Palmer.
16 Aug 17 - Eminent New Zealanders backed by 60 NGOs will tell MPs today what they should do about climate change.

10 Aug 17 - New Zealand's lack of a carbon cap is one of the issues on the table for the Productivity Commission.

10 Aug 17 - It was freshwater at 10 paces on the first day of the Environmental Defence Society's Tipping Points conference yesterday, with both National and Labour releasing their policies.

9 Aug 17 - The Productivity Commission could recommend changes to the Emissions Trading Scheme.
---
8 Aug 17 - More floods in Wellington, more droughts in Wairarapa, more hot days in both places and no frosts in the Tararua Ranges - that's the picture painted in a new climate change report.
4 Aug 17 - Most New Zealanders think the country should be a leader on climate change, with just 8 per cent saying the country should "do a Trump" and pull out of the Paris Agreement, a new survey shows.
31 Jul 17 - Seven weeks out from the general election, we've finally got a political leader talking climate change policy – and it's Winston Peters.
28 Jul 17 - New Zealand isn't ready for a climate budget, says climate minister Paula Bennett.
27 Jul 17 - New Zealand should adopt a UK-style Climate Change Commission and all political parties should support it, says the Parliamentary Commissioner for the Environment.
27 Jul 17 - The latest changes to the Emissions Trading Scheme have met with mixed reactions.
26 Jul 17 - The $25 price cap is staying for now, but the importation of international units will be restricted when the New Zealand carbon market opens to the world again, the Government has just announced.
24 Jul 17 - The Ministry for the Environment has given the Government no advice on the climate implications of developing 13 new coal mines.
24 Jul 17 - Climate change wasn't on the lips of New Zealand's political leaders last week, despite serious flooding in Canterbury and Otago and financial warnings from the world's first professor of the...
21 Jul 17 - Threats from climate change-induced sea-level rise and storms are not reflected in the market value of coastal New Zealand property, putting many people at risk of financial disaster.
20 Jul 17 - Planning to cut New Zealand's greenhouse gas emissions in line with the country's Paris Agreement commitments has been delayed because of the Ministry for the Environment's heavy workload,...
13 Jul 17 - The pan-political Globe climate group says cutting New Zealand's greenhouse gas emissions to net-zero by 2050 is worth serious discussion.
---