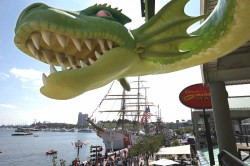 Monday - Baltimore's waterfront revitalisation has become a model for urban development, but sea level rise and extreme weather are putting its future at risk.

Monday - A federal judge has dismissed New York City's lawsuit against five of the world's largest oil companies, dealing a setback to local governments that are trying to hold the fossil fuel industry accountable for climate change.

Friday - The floor of California's Central Valley is slumping, and there is arsenic in the tap water. It seems the two problems are connected.

17 Jul 18 - Uncertainty, hostility and irrelevance are now part of daily life for scientists at the US Environmental Protection Agency.

17 Jul 18 - The gas station chain that was owned by US Vice-President Mike Pence's family has left more than $20 million worth of environmental remediation costs for Indiana taxpayers.

13 Jul 18 - Record-breaking high temperatures across much of North America appear to be shaping people's thinking, a survey finds.

11 Jul 18 - Former US coal lobbyist Andrew Wheeler inherits some important decisions from Scott Pruitt at the EPA, including on the Clean Power Plan, auto standards, methane and use of science.
---
9 Jul 18 - The vast plains of US oil state Texas are home to more then 12,000 wind turbines, making it one of the world's powerhouses for the technology.
6 Jul 18 - Scandal-hit Scott Pruitt has resigned as head of the US Environmental Protection Agency.
5 Jul 18 - The cost of rising seas could be $27 trillion a year globally in 80 years, with the oceans possibly nearing two metres above their present levels.
5 Jul 18 - Rhode Island has become the first US state to sue a group of oil companies over their role in causing dangerous climate change.
28 Jun 18 - A US judge has thrown out a case brought against major oil companies on climate change.
28 Jun 18 - Sea level rises are not some distant threat; for many Americans they are very real. An extract from a chilling new book, Rising, details how the US coastline will be radically transformed in the...
19 Jun 18 - More than 150,000 US homes and businesses could face frequent high-tide flooding within 15 years. That could double by 2045, a new report says.
12 Jun 18 - Leadership in addressing climate change in the United States has shifted away from the national capital Washington.
8 Jun 18 - Billionaire industrialist David H. Koch is stepping away from his political and business interests because of declining health.
7 Jun 18 - Hawaii has set the most ambitious climate goal in the US by signing a bill to become carbon neutral by 2045.
6 Jun 18 - President Trump has ordered his energy secretary to take immediate action to stem US power plant closures, arguing that a decline in coal and nuclear electricity is putting the nation's security at...
6 Jun 18 - California has been given the go-ahead to expand electric vehicle infrastructure and rebate programmes with a total budget of more than $750 million.
---