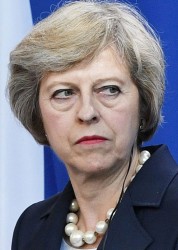 Wednesday - A group of UK businesses and investors have written to Prime MInister Theresa May, urging her to raise the country's ambitions to tackle climate change.

Wednesday - French and German cities using trams to move products are showing how to cut congestion while making a profit from the network.

21 Jul 17 - Hundreds of climate scientists, including many from the United States, have applied to work in France under a multi-million dollar scheme set up by President Emmanuel Macron.

20 Jul 17 - The European Union has accepted a UN ruling that found the bloc in breach of international laws requiring the public to have access to justice on environmental matters.

13 Jul 17 - Plans to increase logging in Finnish forests will have dire impacts on the climate; yet the Finnish government is ignoring evidence and denigrating scientists.

12 Jul 17 - Climate change could affect labour productivity – at least in the wine industry, new research suggests.

7 Jul 17 - According to a new law, rooftops on new buildings in commercial zones across France must either be partially covered in plants or solar panels.
---
5 Jul 17 - A $US78 million experiment aims to reinforce the rapidly eroding coastline, while avoiding the ecological damage common with other nourishment schemes.
4 Jul 17 - Europe's consumption of products such as beef, soy and palm oil could increase its contribution to global deforestation by more than a quarter by 2030, analysis shows.
3 Jul 17 - The latest draft of the German plan for this week's G20 Hamburg meeting contains major concessions to the US and opens the door for coal projects to be defined as "clean".
3 Jul 17 - Fuel poverty affects tens of millions of Europeans. Coupled with continuing subsidies for fossil fuel boilers, this means decarbonisation efforts face an uphill struggle.
28 Jun 17 - The new French government has announced it will stop granting licences for new oil and gas exploration.
19 Jun 17 - A chemical found in CDs, DVDs, kettles and water bottles could soon be restricted after EU authorities ruled that it posed a threat to human health because of its effects on hormones.
16 Jun 17 - Sweden has committed to becoming a net-zero carbon emitter by 2045, under a law just passed in parliament.
15 Jun 17 - Europe's largest economy and the largest state economy in the US have issued a joint statement of intent to boost climate cooperation.
8 Jun 17 - The UK recorded the largest decrease in greenhouse gas emissions in the European Union in 2015, although new research has found the emissions from the bloc increased for the first time in five years.
25 May 17 - The Polish government has been accused of pushing a primeval forest system to the point of no return with state-sanctioned logging in a Unesco world heritage site.
24 May 17 - Swiss voters have said yes to the government's plan to provide billions of dollars in subsidies for renewables, in addition to banning nuclear power.
23 May 17 - An international carbon trading organisation says British companies should stay in the European Emissions Trading Scheme until at least 2020, despite Brexit.
---