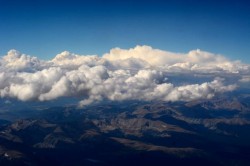 5 Mar 20 - New research supports cloud seeding efforts to bolster water supplies in drying regions, but some scientists question its effectiveness in addressing climate change.

5 Dec 19 - A hot December could see 2019 become New Zealand's warmest year on record.

20 Nov 19 - The global climate crisis could lead to more renewable electricity being generated by spurring faster wind speeds for the growing number of windfarms.

18 Nov 19 - When prolonged periods of severe weather strike, two things often get the blame these days: climate change and the jet stream.

14 Nov 19 - The biggest and most damaging hurricanes are now three times more frequent than they were 100 years ago, say researchers.

4 Nov 19 - Ten years ago, British farmers were in revolt over a suggestion by economist Professor Lord Nicholas Stern that people should turn vegetarian to save the climate.

26 Sep 19 - Extreme sea level events that used to occur once a century will strike every year on many coasts by 2050, according to a landmark report.
---
20 Sep 19 - Scientists using new climate models say a bigger heat rise than expected is possible by the end of the century.
4 Sep 19 - The impacts of climate change-induced droughts on New Zealand's rural communities is under investigation.
6 Aug 19 - When it comes to temperature, New Zealand hasn't had a below-average month for two-and-a-half years.
17 Jul 19 - Record temperatures across much of the world over the past two weeks could make July the hottest month ever measured on Earth, according to climate scientists.
21 Jun 19 - Here is the long-term forecast: Rain will become more torrential, flash floods more frequent. Very heavy rain is a simple response to global temperatures.
6 Jun 19 - The risk of economically devastating, physically debilitating and potentially lethal extremes of heat will multiply, and in unexpected ways, according to US scientists.
21 May 19 - Last month was the second-hottest April since records began in 1891, rivaled only by April 2016.
8 May 19 - The pattern of El Niño has changed dramatically in recent years, according to the first seasonal record distinguishing different types of El Niño events over the past 400 years.
3 May 19 - Scientists have found evidence that humans are causing droughts.
26 Apr 19 - Regions such as the Arctic and most land areas have warmed more quickly than the global average, while many ocean regions have warmed only a little.
29 Mar 19 - New Zealand is not insulated from the accelerating climate change outlined in report out today.
29 Mar 19 - The physical and financial impacts of global warming are accelerating, says the World Meteorological Organisation.
---