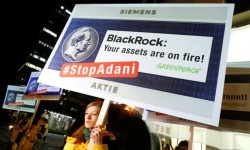 Today 10:00am - BlackRock, the world's biggest investment fund manager, has threatened to sell shares in the worst corporate polluters in a bid to support the goal of net-zero carbon dioxide emissions by 2050.

Today 10:00am - Improving energy efficiency creates far more jobs than generating it, and at the same time provides a way out of the covid crisis by bringing prosperity.

Today 10:00am - The United States will "make good" on financial commitments to developing countries struggling with climate change, top US climate envoy John Kerry has told a summit of world leaders.

Tuesday - The European Investment Bank says it will end all funding for fossil fuels before the end of the year.

Tuesday - Fossil-fuel industry leaders and a controversial economist have joined a committee responsible for ensuring the integrity of projects that get climate funding in Australia.

Tuesday - Reformed trade rules could provide a climate dividend of the rancorous Brexit process of leaving the European Union.

Tuesday - In one of his first acts of office, United States President Joe Biden has issued an executive order that effectively kills the Keystone XL pipeline project.
---
Friday - Joe Biden has moved to reinstate the US to the Paris climate agreement just hours after being sworn in as president, as his administration rolls out a cavalcade of executive orders aimed at tackling...
26 Dec 20 - "CARBON NEWS is my first read of the day and "go to" for what's happening in the carbon markets and climate change in general; relevant and timely reporting." - Mark Baker-Jones, Special Counsel –...
14 Dec 20 - As 2020 comes to a close, world leaders have sent a signal of their willingness to step up their climate ambition, at a virtual event celebrating the fifth anniversary of the Paris Agreement.
14 Dec 20 - BP, Glencore and Rolls-Royce are among eight FTSE 100 companies who have refused to comply with investor demands to disclose their carbon dioxide emissions, as the UK government prepares to compel...
14 Dec 20 - Rich nations are "lagging badly" on a longstanding pledge to channel $100 billion a year in funding, from 2020 onwards, to help poorer countries develop cleanly and adapt to the worsening impacts of...
11 Dec 20 - Scott Morrison has signalled Australia will not be granted a speaking slot at a climate ambition summit this weekend, despite telling Parliament a week ago he would attend to "correct mistruths"...
11 Dec 20 - The world's wealthiest 1 per cent account for more than twice the combined carbon emissions of the poorest 50 per cent, according to the United Nations.
10 Dec 20 - Greenhouse gas emissions reached a new high last year, putting the world on track for an average temperature rise of 3deg, a new United Nations report shows.
10 Dec 20 - Australia's hottest spring on record, which saw temperatures more than 2deg above average, would have been "virtually impossible" without human-caused climate change, new analysis has found.
10 Dec 20 - The grasslands of northern China and Mongolia could be about to lurch into a climate tipping point, an irreversible sequence of heat and drought.
10 Dec 20 - Brazil has announced it will aim for carbon neutrality by 2060, sparking anger among campaigners who say the pledge is meaningless and a deliberate distraction from president Jair Bolsonaro's...
9 Dec 20 - At the end of year dominated by the coronavirus pandemic, world leaders are expected to revive momentum for climate action with fresh commitments to bring the goals of the Paris Agreement closer.
---