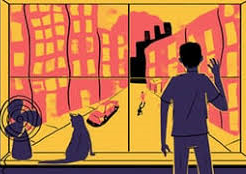 Friday - It is the temperature at which human cells start to cook, animals suffer and air conditioners overload power grids. Once an urban anomaly, 50C is fast becoming reality.

Friday - On land, earthworms eat dead leaves and fungi and poop out tiny bits of organic matter that enrich the soil. In the sea, it turns out that some marine worms chew on floating plastic and poop out microplastics.

Friday - Anglo-Saxon capitalism's drive to maximise profits in the short term won't save the planet. Perhaps the Chinese model can?

Friday - Companies which invest on the basis of environmental concerns often receive higher returns, new research shows.

Friday - Corporations, led by Facebook, are purchasing more clean energy than ever, with 2018 already exceeding the record-amount set last year.

Thursday - Presidential candidate Jair Bolsonaro is threatening to take Brazil out of the Paris Agreement if he wins the October election.

Thursday - The fragmented nature of EV charging infrastructure ownership means that any of a range of players could be taking your money.
---
Thursday - When the Garzweiler open cast coal mine in Germany is finished, 5000 people will have been relocated and 20 villages will have been wiped off the face of the Earth.
Thursday - Costs from coastal flooding in Europe could hit almost one trillion euros by 2100, according to researchers.
Thursday - A proposed island to protect a resort that once was the haunt of stars like Frank Sinatra and Marlene Dietrich could be its ruin.
Thursday - Some of the UK's largest pension funds are in danger of legal action over the risks posed by climate change.
Thursday - Whangarei, winner of the most electric vehicle friendly town in New Zealand award, has a big advantage over other regions.
Wednesday - The deadly global heatwave has made it impossible to ignore: in cities worldwide, we are now divided into the cool haves and the hot have-nots
Wednesday - France plans to introduce a penalty system next year that would increase the costs of consumer goods with packaging made of non-recycled plastic.
Wednesday - Unregulated, unnoticed coal mines across the US are leaking a potent greenhouse gas with the same greenhouse effect as 13 million cars.
Wednesday - A 16-year study of ocean conditions in Antarctica suggests that the periodic arrival of warm currents as a result of natural variability is worsening the rate of ice mass loss from key glaciers.
Tuesday - Money channelled through secretive tax havens has been used to fuel deforestation in the Amazon and illegal fishing around the world, racking up a heavy environmental toll.
Tuesday - The amount polluters pay for emitting carbon in the EU has hit a 10-year high, in a blow for coal power station owners and a boost for renewable energy.
Tuesday - Ridiculed at first, the project to clean up Kual Lumpur's Klang river is on track to be completed on time and below budget.
---