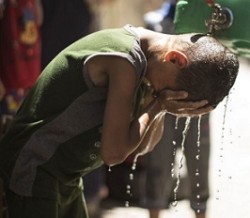 Monday - The most obvious effect of global warming is not a doomsday scenario. Extreme heat is happening today, and wreaking havoc on vulnerable bodies.

Monday - Chinese-owned Volvo's move away from the internal combustion engine will fuel Beijing dominance in emerging clean technology.

Monday - Profligate fossil fuel use could cause Asian temperatures to rise by 6deg , bringing floods and food shortages for hundreds of millions.

Monday - Nearly one-third of tropical animal species face extinction if humans do not curb their growing appetites for beef, pork and other land-intensive meats.

Monday - The roads of Vietnam's capital have been taken over by the two-wheeled horde, but bringing in a ban by 2030 will be a tough ask.

Monday - Pepsico, Unilever and Nestlé have been accused of complicity in the destruction of Sumatra's last tract of rainforest shared by elephants, orangutans, rhinos, and tigers together in one ecosystem.

Friday - Several flood-prone municipalities in California filed first-of-their-kind lawsuits against fossil fuel companies this week as they attempt to recoup the cost of coping with rising seas.
---
Friday - Humans have produced more than eight billion tonnes of plastic since the 1950s with the majority ending up in landfill or polluting the world's continents and oceans.
Friday - The much-discussed boom in coal-fired power in south-east Asia is being bankrolled by foreign governments and banks, with the vast majority of projects apparently too risky for the private sector.
Friday - OPINION: Stop obsessing with how personally green you live – and start collectively taking on corporate power.
Friday - Hundreds of climate scientists, including many from the United States, have applied to work in France under a multi-million dollar scheme set up by President Emmanuel Macron.
Friday - Cities are getting hotter as the planet warms, and the consequences can be deadly - a heat wave hit Russia in 2010 and killed 55,000 people.
Friday - Cape Town, experiencing its worst drought in 100 years, has taken the situation as an opportunity to seek solutions which could be of use in other parts of Africa.
Thursday - Spot NZUs opened today at $17.50 bid and $17.80 offered, after last fixing at $17.70.
Thursday - Homebuyers could take out bigger mortgages if the energy ratings of properties were factored into the lending criteria of banks and building societies, new research has found.
Thursday - Despite warm words about protecting the vulnerable, the island presidency of this year's UN climate talks is showing no urgency on "loss and damage".
Thursday - At the halfway point of the year, 2017 remains the second-hottest year to date — a surprise given the demise of the El Niño that helped to boost temperatures to record levels last year.
Thursday - The next generation will have to pay a $535 trillion bill to tackle climate change, relying on unproven and speculative technology.
Thursday - Australians collectively could slash greenhouse gas emissions by a staggering 70 per cent if they joined forces to become energy and climate trailblazers in their own backyards.
---