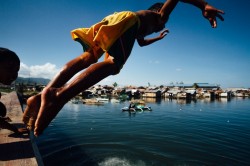 Friday - Global surface temperatures in 2019 are on track to be either the second or third warmest since records began in the mid-1800s, behind only 2016 and possibly 2017.

Friday - Regions such as the Arctic and most land areas have warmed more quickly than the global average, while many ocean regions have warmed only a little.

Friday - Warmer temperatures are widening the chasm separating richer and poorer countries.

Friday - Dutch engineers are building what will be the world's largest archipelago of islands made up of sun-tracking solar panels.

Friday - Panama disease, an infection ravaging banana plants globally, is a warning that we are growing our food in an unsustainable way.

Wednesday - By BILL McKIBBEN | We have the technology to prevent climate crisis. But now we need to unleash mass resistance too – because collective action does work.

Wednesday - For years, experts in conservation and climate science have urgently pursued two parallel paths—one to interrupt a large-scale extinction event, the other to avert a runaway climate crisis.
---
Wednesday - US scientists have identified yet another hazard linked to the thawing permafrost - laughing gas.
Wednesday - Climate change planning for Pacific Islands cities and towns has been limited, despite their rapid growth.
Wednesday - The youth protests urging political action on climate change have won strong global backing from climatologists, as more than 6000 scientists express their support.
Tuesday - The global financial system faces an existential threat from climate change and must take urgent steps to reform, the governors of the Bank of England and France's central bank have warned.
Tuesday - Greta Thunberg, the 16-year-old Swedish environmental activist, has given her support for a general strike for the climate.
Tuesday - Fears over climate change have led many to rethink the way they travel and, in Sweden, they've even invented a new word for the shame associated with flying.
Tuesday - New York City has set an ambitious new standard for combating greenhouse gas emissions, approving a package of climate policies designed to slash energy use in big buildings.
18 Apr 19 - Global climate models developed for the UN are running hotter than they have in the past. Soon the world could be, too.
18 Apr 19 - Europe needs its own Green New Deal to stave off the perfect storm of populism, climate change and economic crisis.
18 Apr 19 - Finance ministers from 23 countries have pledged to back climate action through their policy, tax and spending decisions.
18 Apr 19 - Voters across Asia are most likely to usher in governments that take a stronger stance on climate change and other environmental issues, according to surveys released in the lead-up to national...
17 Apr 19 - China aims to complete and start generating power from an experimental nuclear fusion reactor by around 2040.
---