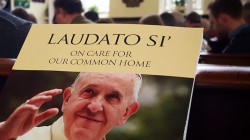 Wednesday - Speaking on World Food Day, Francis said climate change was a driver of hunger and migration and the Paris climate agreement was the legal basis for the solution.

Tuesday - Today, one out of six people on Earth live in Africa. These same projections predict that the proportion will be one in four in 2050 and more than one in three by 2100.
12 Oct 17 - The International Monetary Fund has warned the world's richest nations to have a greater sense of urgency about climate change.

10 Oct 17 - When asked about major threats to their country, Europeans are more likely than Americans to cite global climate change.

10 Oct 17 - The bakery that tried to list 'love' as a granola ingredient might not have got away with it, but elsewhere dubious and confusing labelling is rife – and it is ruining our diets.

6 Oct 17 - More than 90 per cent of the excess heat trapped by greenhouse gas emissions has been absorbed into the oceans.

5 Oct 17 - Forty Roman Catholic groups have announced they will shun investments in fossil fuels and have urged others to follow suit.
---
4 Oct 17 - Ireland has failed spectacularly in its response to the challenges posed by climate change over the last 15 years, the Citizens' Assembly has been told.
3 Oct 17 - Coca-Cola increased its production of throwaway plastic bottles last year by well over a billion, according to analysis by Greenpeace.
2 Oct 17 - Corporations globally have made hundreds of commitments on deforestation. But what do these pledges really mean and why do scandals keep happening?
2 Oct 17 - Pollution is controllable and avoidable through political leadership, high-level champions and commitments, says a new UN report.
2 Oct 17 - Studies show that children are better at identifying Pokémon characters than real animals and plants.
29 Sep 17 - The International Monetary Fund has told rich countries they must do more to help poor nations cope with climate change or suffer the consequences.
28 Sep 17 - Green bonds issuance is set to reach a record $134.9 billion by the end of this year.
27 Sep 17 - The sixth mass extinction of global wildlife already under way is seriously threatening the world's food supplies, according to experts.
25 Sep 17 - Land rights defenders from 29 countries have written to the UN asking it to act against violent corporate and state-sponsored groups which they say are threatening their lives and trashing the...
25 Sep 17 - A cache of decaying notebooks found in a crumbling Congo research station has provided unexpected evidence with which to help to solve a crucial puzzle – predicting how vegetation will respond to...
21 Sep 17 - Right now, the capability of the UN's institutions to understand, prepare and respond to climate change risks is terrifyingly inadequate.
21 Sep 17 - The discovery of aquatic architecture has led scientists to compare the behaviour of cephalopods to humans – but octopus city life is no utopia.
---