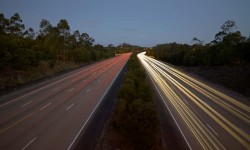 Today 9:00am - Within six months, Queensland will have a 2000km network of electric vehicle charging stations that make up one of the world's longest electric vehicle highways.

Thursday - Australia's world-leading indigenous land management and carbon farming programmes are spreading internationally, with a formal agreement signed to help to build a similar programme in Canada.

20 Jul 17 - Australians collectively could slash greenhouse gas emissions by a staggering 70 per cent if they joined forces to become energy and climate trailblazers in their own backyards.

19 Jul 17 - The head of Australia's biggest energy utility – and its biggest coal generator – says that if any Clean Energy Target is to be effective it has to take into account global climate targets.

17 Jul 17 - The Australian Automobile Association has tried to kill any government move to cut greenhouse gas emissions from cars, arguing it would increase the cost to consumers and contradicting comprehensive government modelling.

14 Jul 17 - Australian state energy ministers are threatening to go it alone with a clean energy target as they ramp up pressure on the Coalition government.

13 Jul 17 - Coal-hungry Queensland is preparing to slash its pollution to net-zero by 2050, under new plans just released by the State Government.
---
13 Jul 17 - As Australia mulls the building of its biggest-ever export thermal coal mine, its biggest foreign buyers look set to reduce their consumption, driving down the price of Australian coal, and the...
11 Jul 17 - Elon Musk's agreement to build the world's largest battery for South Australia isn't just an extraordinary technological breakthrough that signs coal's death warrant.
10 Jul 17 - US-based Tesla and French company Neoen will build the world's largest lithium ion battery in South Australia with plans to complete construction before summer.
6 Jul 17 - The Australian government's Climate Change Authority has just lost its last climate scientist.
5 Jul 17 - Australia has never had climate consensus – and it has been costly, argues Labor frontbencher Mark Butler in an extract from his book Climate Wars.
4 Jul 17 - A UN committee has urged Australia to review its support for expanded coal production.
26 Jun 17 - Australia's Climate Council is calling for the backlog of the nation's emissions data to be urgently released, with the Federal Government failing to provide the nation's quarterly data for more than...
22 Jun 17 - As Australia's Senate launches an inquiry into the national security ramifications of climate change, a new report has warned global warming will cause increasingly regular and severe humanitarian...
20 Jun 17 - A history of failure has left Australia with virtually no genuinely independent advice on climate change.
13 Jun 17 - A multibillion-dollar bidding war for most of Rio Tinto's Australian coalmines has broken out between China-backed Yancoal and Glencore after the Swiss commodities company made an unexpected offer.
12 Jun 17 - Less than two weeks ago, Australia's chief scietist Alan Finkel told the Senate his landmark report would help the country meet the commitments it made in Paris to reduce its economy-wide emissions...
9 Jun 17 - Australian Opposition Leader Bill Shorten has written to Prime Minister Malcolm Turnbull offering bipartisan co-operation on climate change policy, after a "decade of toxic politics" in the area.
---