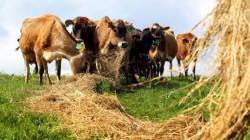 Thursday - New Zealand's greenhouse gas emissions from farming could have fallen by 20 per cent on 1990 levels if the efficiency gains of the past 25 years hadn't been used to boost production.

Wednesday - In late 2015, officials gave new climate minister Paula Bennett as list of five things they thought should be done over the next two years.

Wednesday - The biggest New Zealand and Australia institutional investors are among more than 225 global investors with more than $37.5 trillion in assets under management promising to "engage" the world's largest emitting companies to act on climate change.
Tuesday - Climate minister James Shaw says the new climate commission will play a role in dealing with agricultural greenhouse gas emissions.
Monday - New Zealand's approach to negotiating carbon-trading relationships with other countries is drawing fire.

Monday - Neither Prime Minister Jacinda Ardern nor climate minister James Shaw will be at the One Planet Summit Day in Paris tomorrow.

8 Dec 17 - Officials are working on getting New Zealand access to international carbon markets when they develop – but they don't want their activities made public.
---
7 Dec 17 - Floods, fires, droughts, storms, slips, pests and diseases are Auckland's future, threatening primary production and human health, warns a new report.
7 Dec 17 - New Zealand carbon is selling for more than $20 a tonne for the first time since March 2011 – and it's expected to go higher.
6 Dec 17 - Understanding why farmers are not taking advantage of ways to make more money while cutting greenhouse gas emissions is critical to getting New Zealand's emissions down, says a leading scientist.
6 Dec 17 - Global greenhouse gas emissions would fall if people in rich countries like New Zealand ate healthily, Dutch scientists say.
6 Dec 17 - This spring has set a mark as second-equal warmest on record.
5 Dec 17 - New Zealand needs to start planning now for the impacts climate change will have on its oceans and fisheries, scientists say.
4 Dec 17 - New climate minister James Shaw has a clear message for business: get your house in order because New Zealand is decarbonising ... fast.
1 Dec 17 - New Zealand is being challenged to show the world how to decarbonise without tanking.
1 Dec 17 - Working with the Red Cross has won New Zealand Post the top prize in the Sustainable Business Network awards this year.
30 Nov 17 - The climate commission – one of the Government's promises for its first 100 days in office – is likely to play a role in setting carbon prices, the new climate minister says.
29 Nov 17 - As many as one in six species faces extinction as a result of climate change, scientists are warning in a new report.
29 Nov 17 - Karaka leaves gathered by naturalists on board HM Bark Endeavour nearly 250 years ago are helping today's researchers to understand climate change.
---