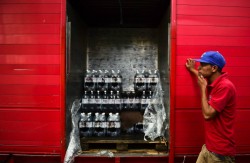 Thursday - An analysis of more than 600 top US companies has found that those seeing the effects of global warming first-hand are taking the most concrete actions.

Thursday - The EU has taken a significant step towards principles which make an asset out of waste.
Thursday - BP chief executive Bob Dudley has come under fire from campaigners after he urged Cambridge University not to drop its fossil fuel investments.
Thursday - The novel "supermaterial" graphene could hold the key to making concrete greener, new scientific research suggests.

Thursday - Fears that the supply of cocoa beans would dry up have led a confectionery giant to help farmers to avert a climate chocolate threat.

Thursday - Ferrari CEO Sergio Marchionne has admitted the supercar manufacturer has been quietly - very quietly - testing a gasoline-electric hybrid car.
Tuesday - Former New York City mayor Michael Bloomberg has said he will write a $4.5m cheque to cover this year's US commitment to the Paris Climate Agreement.
---
Tuesday - Cryptocurrencies like Bitcoin might fill news headlines, but attention has been shifting to the technology that underpins them - blockchains.
Tuesday - The world's permafrost holds vast stores of carbon. What happens when it thaws?
Tuesday - California is likely to swing from drought to extreme rainfall and flooding more often in the future, a new report says.
Tuesday - A staggering number of golf balls wind up in the ocean. What happens to them?
Monday - A massive cash burn and multiple factory snafus mean investors in Tesla are losing patience.
Monday - Electric cars are praised as the answer to questions of green and clean mobility. But the overall sustainability of electric vehicles is far from clear.
Monday - Europe's largest bank, HSBC, says it will mostly stop funding new coal power plants, oil sands and arctic drilling.
Monday - Miami Beach's $500 million attempt to elevate and pump itself out of sea level rise's path has drawn criticism, but an expert panel says the city's doing what it needs to survive.
Monday - The funeral industry is catering for the growing number of people who want to deal with their mortal remains in an environmentally sound way.
Monday - Humanity's cherished hope that we are building a long-lived civilisation may be nothing more than a pipe-dream.
20 Apr 18 - More than 170 religious leaders from all over the world have urged governments from the Commonwealth to "turn words into action" and stop dangerous climate change.
20 Apr 18 - Shell CEO Ben van Beurden has the same message for activists and investors: Trust me.
---