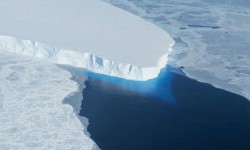 Monday - Building walls on the seafloor might become the next frontier of climate science, as engineers seek novel ways to hold back the sea level rises predicted to result from global warming.

Monday - Japanese scientists have developed a sun-powered golden sandwich: an experimental solar panel that they claim could be up to 11 times more effective than most equipment on the market.

Monday - The world will soon have a much clearer picture of how quickly humans are melting Earth's ice and expanding the seas, with data collected by a sophisticated satellite launched by Nasa.

Friday - Microplastic can escape from polluted waters via flying insects, research has revealed, contaminating new environments and threatening birds and other creatures.

18 Sep 18 - Tequila, avocado and corn are proving their worth beyond Mexican fiesta staples as key components for a fast-growing bioplastics market.

17 Aug 18 - On land, earthworms eat dead leaves and fungi and poop out tiny bits of organic matter that enrich the soil. In the sea, it turns out that some marine worms chew on floating plastic and poop out microplastics.

10 Aug 18 - Solar geoengineering would ease heat stress, but also block vital sunlight for plants.
---
30 Jul 18 - The ozone hole is an environmental success story and an enduring global threat ... and the its headlines in recent months read like an international eco-thriller.
23 Jul 18 - Scientists studying the troposphere – the lowest level of the atmosphere – have found "powerful evidence" that climate change is altering seasonal temperatures.
13 Jul 18 - A tiny fern might provide global impact for sinking atmospheric carbon dioxide, fixing nitrogen in agriculture and shooing pesky insects from crops.
25 Jun 18 - Higher than expected levels of the potent short-lived climate pollutant raise questions about whether natural gas can be an effective bridge to lower emissions.
22 Jun 18 - Research into farming seaweed as a way of storing carbon has earned a New Zealand scientist international recognition.
21 Jun 18 - Two of the three options in the Government's Zero Carbon Bill discussion paper will not increase New Zealand's current emissions reduction target, says a mathematician who has run the numbers.
20 Jun 18 - New Zealanders are among the billions of city dwellers who will be hit by the impacts of climate change within three decades, a new report shows.
18 Jun 18 - Storing billions of tonnes of CO2 underground would be a "safe and effective" way to help to limit the effects of climate change, a new study says.
18 Jun 18 - Climate change will make rice less nutritious, putting millions of the world's poor at risk, new studies show.
13 Jun 18 - New research provides a way out of a longstanding quandary in climate policy: how best to account for the warming effects of greenhouse gases that have different atmospheric lifetimes.
8 Jun 18 - Microsoft has placed a data centre on the sea floor off the Scottish coast in an innovative environmental test.
24 May 18 - Holding global warming to 1.5deg instead of 2deg could save the world more than $29 trillion, researchers say.
---