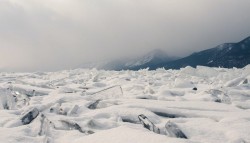 Today 11:00am - Nights are warmer. So are northern lakes. And farm livestock are at greater risk of disease, thanks to rising heat.

Today 11:00am - Oil company ConocoPhillips has a problem; it wants to pump 160,000 more barrels of oil each day from a new project on Alaska's North Slope, but the fossil fuels it and others produce are leading to global heating, and the Arctic is melting.

Today 11:00am - Former Australian Prime Minister Kevin Rudd says the spreading of misinformation about climate change and other issues warrants a Royal Commission investigation into Rupert Murdoch's media monopoly.

Tuesday - China has slammed the United States' environmental and climate record, in an extraordinary public attack less than two weeks before Americans go to the polls.

Tuesday - Three weeks after China told the world it is aiming for carbon neutrality, an important study outlines a roadmap to that goal, and challenges along the way.

Tuesday - Current rules on company disclosures to help markets price in risks from climate change will become mandatory, a senior Bank of England official said on Friday.

Tuesday - An influential group of investors is urging UK regulators to make climate risk reporting mandatory for nearly 500 FTSE-listed firms.
---
Monday - As Britain and the rest of Europe battle the second wave of the covid-19 pandemic, desperate eyes turn to central bank bosses, wondering what rescue plans they have up their sleeves.
Monday - European Union leaders say they will decide on a more stringent climate target for 2030 at a summit in December, leaving more time to forge a united European response to climate change.
Monday - The world is dragging its feet on efforts to tackle the climate crisis by reducing its energy use, according to a global watchdog.
Friday - Australian resources giant BHP may finally be starting to establish itself as a primary supplier of materials to the battery and electric vehicle markets, confirming that it has started to boost...
Friday - United States supreme court nominee Amy Coney Barrett refused to say whether she accepts the science of climate change, under questioning from Kamala Harris, saying she lacked the expertise to know...
15 Oct 20 - Brazil's spy agency has been accused of trying to intimidate its own government's negotiators and Brazilian environmentalists at the COP25 climate talks in Madrid last year.
15 Oct 20 - Green hydrogen, low-carbon aviation fuel and electric trucks are among 55 clean technologies that can help the European Union to reach its goal of climate neutrality by mid-century, new research...
15 Oct 20 - Every so often you come across a piece of writing so extraordinary that you cannot help but share it. One such piece is a sermon on global warming by American pastor John MacArthur.
14 Oct 20 - Late last year, the Dutch Supreme Court issued a decision that could have implications for countries around the world.
14 Oct 20 - Thirty of the world's largest asset owners, with portfolios worth a combined $US5 trillion, have committed to cutting the carbon emissions linked to companies they invest in by up to 29 per cent...
14 Oct 20 - For the first time, the International Energy Agency has set out what would need to happen this decade to reach net-zero emissions globally by 2050.
13 Oct 20 - Extreme weather events have increased dramatically in the past 20 years, taking a heavy human and economic toll worldwide, and are likely to wreak further havoc, the UN has said.
---