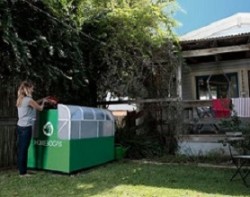 Tuesday - In an age of worrying climate change and looming fossil energy decline, home-produced biogas is an extremely promising technology whose time has come.
29 Nov 17 - Shell has doubled its spending on clean power and bowed to shareholder pressure by promising to halve the carbon footprint of the energy it sells by 2050.

27 Nov 17 - The latest Climate Bonds Initiative analysis shows that green bond issuances in 2017 have reached the significant $100 billion benchmark.

22 Nov 17 - Mexico is on track to generate the world's cheapest solar power — with prices as low as 1.77c a kilowatt hour.

17 Nov 17 - The visionary innovator who flew 40,000km in a solar-fuelled plane has urged companies to pursue revolutionary ideas as the only way to fight climate change.

17 Nov 17 - Damming rivers may seem like a clean and easy solution for energy-hungry countries. But the devil is in the details.

16 Nov 17 - The Paris Agreement has created a global framework for managing carbon, but nothing similar exists for minerals.
---
13 Nov 17 - Just five years ago it would have been almost unthinkable that one of the world's biggest mining companies would not dig any coal. It's now likely to become a reality.
13 Nov 17 - A billionaire's campaign has seen half of US coal plants close in six years. Now he is targeting Europe and beyond to fight climate change and air pollution.
10 Nov 17 - Contact Energy is getting a lot of attention for its pioneering green borrowing programme, certified by Climate Bonds Initiatives and launched in mid-August.
9 Nov 17 - Researchers say a world running on 100 per cent renewable electricity is attainable by mid-century, or even earlier.
8 Nov 17 - A Polish bid to siphon off up to €29bn of EU carbon market money for ageing coal plants has been slapped down in a backroom statement by the UK, France, Germany and four other countries.
8 Nov 17 - The Church of England should "show moral leadership" and immediately sell its investments in the oil giant ExxonMobil, according to a group of bishops and other clergy.
7 Nov 17 - A quarter of global oil-refining capacity could become unviable and be forced to close by 2035 as a swelling tide of climate regulations and rapid advances in clean technologies cut oil demand, a new...
7 Nov 17 - ANZ BANK is telling thermal coalminers to clean up their act ,as it starts to pick and choose which it will back through a transition to a low-carbon economy.
7 Nov 17 - Scotland is on target to generate all of its electricity from renewable sources by 2020.
6 Nov 17 - By ERIK NORDMAN | Cape Verde, the small island archipelago nation off Africa's northwest coast, has set itself a very bold renewable energy target - to obtain 100 per cent of its electricity from...
31 Oct 17 - Oil giants Shell and BP are planning for global temperatures to rise as much as 5deg by the middle of the century.
27 Oct 17 - Solar power costs will fall by another 60 per cent over the next decade giving an already booming market another boost.
---