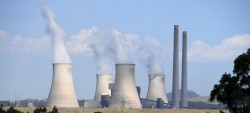 Friday - One of Australia's biggest industry superannuation funds plans to sell down its investments in thermal coal miners in a bid to protect its members from the financial impact of climate change.

7 Jul 20 - Australia has been ranked third behind South Korea and Latvia in a global report on the effectiveness of its response to the covid-19 pandemic -- but 37th in in the fight against climate change.

2 Jul 20 - Despite three decades of relative inaction on climate change and stalling from successive Australian Governments, the Morrison Government has claimed success in meeting Australia's targets under the Kyoto Protocol, which came to an end on Wednesday.

11 Jun 20 - Federal environment minister Sussan Ley has rejected a $100m wind farm proposal in central Queensland on the ground it would clear old-growth forest important to vulnerable species, including the koala.

4 Jun 20 - The future of universities will involve articulating their unique role as embedded, ethical generators of crucial knowledge and skills, well-equipped to handle coming contingencies and helping others to do the same - and that means climate change.

28 May 20 - Every few years, the idea that gas will help Australia transition to a zero-emissions economy seems to re-emerge, as if no one had thought of it before.
28 May 20 - Since last summer's bushfire crisis, there's been a quantum shift in public awareness of Aboriginal fire management.
---
26 May 20 - Ian Dunlop - the former head of the Australian Coal Association - worries about his grandchildren. He worries time is running out.
25 May 20 - Australian businesses, unions, investors and environmentalists are joining forces in a call for a covid-19 pandemic economic recovery programme based on energy efficiency.
25 May 20 - Leading health professionals, including a Nobel laureate and a former Australian of the Year, say the Australian Government must put human health "front and centre" in a new generation of environment...
22 May 20 - Australia's oil and gas producers have warned against the Morrison government underwriting a massive expansion of the domestic industry, saying the country does not have a gas shortage and...
20 May 20 - Australian Prime Minister Scott Morrison has just celebrated the first anniversary of his surprise election win in May, 2019. And he's been getting some glowing reviews from some predictable quarters.
20 May 20 - "Pestilence is so common," writes Albert Camus in The Plague: There have been as many plagues in the world as there have been wars, yet plagues and wars always find people equally unprepared. When...
14 May 20 - As the Australian government prepares plans for economic recovery, investors and green groups alike say this is a once-only opportunity to move towards zero emissions.
11 May 20 - Shareholders in global miner Rio Tinto have rebuked the company over its climate stance, with 37 per cent voting at a meeting in Australia for a resolution that would require it to set binding...
11 May 20 - Social distancing rules will kill cities, experts warn – and the future of mass transit hangs in the balance.
11 May 20 - The Australian federal court has ruled that feral horses can be removed from the Victorian high country.
7 May 20 - A leading Australian business group is calling for the two biggest economic challenges in memory – recovery from the Covid-19 pandemic and cutting greenhouse gas emissions – to be addressed together,...
5 May 20 - Westpac says it will stop funding mining projects for coal to be used for power generation by 2030, as part of a broader commitment to reach a net-zero emissions business model by 2050.
---