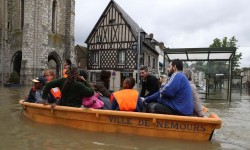 Friday - A new study highlights the urgent need to adapt urban areas across Europe to cope with floods, droughts and heatwaves.

20 Feb 18 - Pigeons might be seen as the scourge of cities, but researchers say they could help us to explore a host of toxins in the air, from lead to pesticides.

31 Jan 18 - Planting more urban forests is a simple way not only to improve the health of a city's people, but to make them wealthier, too.

15 Dec 17 - A European development bank has partnered with city mayors from all over the world to mobilise more than $1.5 billion in urban investment to help combat climate change.

7 Dec 17 - Floods, fires, droughts, storms, slips, pests and diseases are Auckland's future, threatening primary production and human health, warns a new report.

5 Dec 17 - Instead of extracting dwindling raw materials from nature, the time has come to start re-using materials from buildings and infrastructure in cities.

4 Dec 17 - Dramatic images of bike graveyards shouldn't be taken at face value – there's hope for bike-sharing schemes yet.
---
27 Nov 17 - City trees are responding to climate change and urban growth, making the most of the heat island effect.
21 Nov 17 - Cities account for 75 per cent of the world's energy use and 76 per cent of carbon dioxide emissions.
20 Nov 17 - Plans for more wired, networked, connected urban areas face challenges if they fail to account for existing, local, non-digital elements such as government and socioeconomic conditions.
15 Nov 17 - Climate change action at the local level has the potential to save as much as £7 billion each year across the 50 largest cities in the UK.
13 Nov 17 - The mayors of 25 cities with more than 150 million citizens between them say they will start cutting emissions before 2020 and will be carbon neutral by 2050.
8 Nov 17 - New Zealand's clean electricity supply has won Auckland 48th place in the 2017 Smart City Index – but its traffic congestion and lack of environmental protection have let it down.
2 Nov 17 - Merchants in an Oregon town believe new walking and biking infrastructure will attract cusatomers to their businesses.
1 Nov 17 - After more than 100 years of living with cars, some cities are slowly starting to realize that the automobile doesn't make a lot of sense in the urban context.
25 Oct 17 - Twelve major cities including London, Paris, Los Angeles and Cape Town have promised to buy only zero-emissions buses from 2025.
18 Oct 17 - Electric cars won't eradicate city gridlocks and air pollution, but carbon footprints could be cut by favouring pedestrians, cyclists and mass transit.
27 Sep 17 - Green building rating systems are an essential tool in the fight to achieve a net zero emissions built environment.
22 Sep 17 - First prize in a tropical architecture design competition went to an 11-storey marvel built using recycled building materials, waste plastic and glass bottles.
---