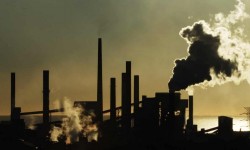 Monday - The Australian Coalition Government's safeguards mechanism was meant to stop rises in industrial emissions cancelling out cuts paid for by taxpayers – but it's a colossal failure.

Monday - Lustier plant growth as greenhouse gases climb should counter global heating and atmospheric carbon build-up. But it's not quite so simple.

Monday - Indonesia is the world's second-largest ocean plastic polluter, after China.

Monday - Climate-vulnerable Singapore will part ways with fossil fuel vehicles within the next two decades and throw its weight behind cleaner vehicles.

Monday - By ANDREW SPENCE | Adelaide-based Australian Gas Networks has been awarded $1.28 million in Federal Government funding to support a study into introducing renewable hydrogen into South Australian and Victorian towns.

Monday - Wood consumption has jumped 173 per cent in China over the past decade, and restrictions on felling primary forest mean the country relies on wood imports for over half its demand.

Friday - Sea levels might threaten coastal cities sooner than expected, scientists say, as ice loss speeds up and Antarctic temperatures rise.
---
Friday - As China battles one of the most serious virus epidemics of the century, the impacts on the country's energy demand and emissions are only beginning to be felt.
Friday - A flexible solar "skin" that could be used to generate power on homes, cars and phones is a step closer to development after the technology was used to break a world record for electricity...
Friday - All UK airports must close by 2050 for the country to reach its target of net zero climate emissions by then, scientists say.
Friday - Tesla has announced an increased range as a step toward bringing electric vehicles — and their contribution to combating climate change — into the mainstream.
Thursday - The oil and gas industry has had a far worse impact on the climate than previously believed, according to a study indicating that human emissions of fossil methane have been underestimated by up to...
Thursday - Wind, water and solar sources − the renewable energy trio − could meet almost all the needs of our power-hungry society in 30 years.
Thursday - The changing climate could destroy nearly all remaining coral reefs by the end of the century, according to new research.
Thursday - Mining giant Glencore has predicted its carbon footprint will shrink by almost a third by 2035, but will not set climate targets for the company.
Thursday - Governments should sharply expand protected areas for animals and plants to cover 30% of the planet by 2030 to pull back from "the precipice of irreversible loss of biodiversity", a group of former...
Thursday - Human aerosol emissions might have partially offset global economic inequality by reducing warming.
Wednesday - Jeff Bezos, the Amazon founder and Washington Post owner, has announced that he is donating $10 billion to save the Earth's environment – barely a month after it was revealed Amazon threatened to...
Wednesday - Climate research is the poor relation of the academic world. Since 1990 it has won less than five per cent of the research funds available.
---