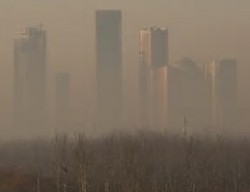 Wednesday - As the United States reverses its climate policies, the world's top greenhouse gas emitter, China, is in the midst of setting up a national carbon-trading system.

Wednesday - Climate policy in both Australia and the United States is being built upon alternative facts, fake news, outright lies, PR spin and industry-written talking points.

Wednesday - Despite public denials, the European Commission is considering implementing an electric car quota to be achieved by automakers by 2030.
Wednesday - Each summer, a large part of the Gulf of Mexico "dies". This year, the "dead zone" is the largest on record, stretching hundreds of miles from the mouth of the Mississippi, along the coast of Louisiana to waters off Texas.

Wednesday - Countries need to start negotiating who will take responsibility for removing carbon dioxide from the atmosphere.

Wednesday - Social media platforms such as Twitter and Instagram could be a rich source of free information for scientists monitoring the health of coral reefs and other environmental assets.

Tuesday - Military and climate experts, including a former chief of the defence force, have warned that Australia faces potential "disastrous consequences" from climate change.
---
Tuesday - Norway's plan to ramp up oil and gas production in the Arctic threatens global efforts to tackle climate change, according to a new study.
Tuesday - The world's first wireless fridge camera goes on sale in the UK next month aimed at helping households to slash food waste by being able to check exactly what they have in their refrigerator at any...
Tuesday - ABOUT 60 per cent of the world's city dwellers have experienced warming twice as great as the rest of the world.
Tuesday - The deep past has cruel lessons for the near future, for example how ocean oxygen depletion can stifle the marine world. It could recur.
Tuesday - New studies confirm climate change's triple risk to Europe. The heat is on, lives are at risk and the floods are arriving earlier.
Monday - Scientists have uncovered the largest volcanic region on Earth – two kilometres below the surface of the ice sheet that covers west Antarctica.
Monday - Donald Trump has failed to knock the Paris climate agreement off course, says former US vice-president Al Gore.
Monday - The monster El Niño weather pattern of 2014–16 caused tropical forests to burp up three billion tonnes of carbon, according to a new analysis.
Monday - Last year was the hottest on record with heat-trapping greenhouse gases hitting their highest concentration ever, surpassing 400 parts per million for the first time in nearly a million years.
Monday - Scientists have long known about the anomalous "warming hole" in the North Atlantic Ocean, an area immune to warming of Earth's oceans.
Friday - It is "extremely unlikely" 2014, 2015 and 2016 would have been the warmest consecutive years on record without the influence of human-caused climate change, according to a new study.
Friday - Monsanto continued to produce and sell toxic industrial chemicals known as PCBs for eight years after learning that they posed hazards to public health and the environment, archives reveal.
---