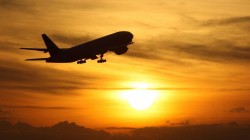 14 Apr 21 - The world's wealthy must radically change their lifestyles to tackle climate change, a report says.

8 Apr 21 - In Bath, England, even the smallest investors can support – and profit from – the city's green energy boom.

8 Apr 21 - Wealthy frequent flyers who take several holidays a year should pay higher taxes each time they fly, a British charity says.

7 Apr 21 - The UK government must ban the sales of peat compost this year after its goal of a voluntary phaseout by 2020 proved an "abject failure", according to a group of gardening experts, conservationists and scientists.

31 Mar 21 - Prominent scientists and lawyers have said Britain's decision to ignore the Paris climate agreement when deciding on major infrastructure projects undermines its presidency of UN climate talks this year.

24 Mar 21 - Supporters of Northern Ireland's first climate bill say it is an "historic moment".

12 Mar 21 - Tougher rules are being introduced to make appliances such as fridges, washing machines and TVs cheaper to run and last longer, says the British Government.
---
8 Mar 21 - Smart, low-carbon homes were once the preserve of one-off grand designs, but now Britain has up to 30,000 projects in the pipeline.
4 Mar 21 - The Bank of England's remit has been changed to include a duty to support the country's net-zero carbon ambition.
25 Feb 21 - Taxing carbon dioxide emissions would be popular with British voters, polling suggests, as the government moots ways to put a price on carbon that could help tackle the climate crisis and fund a...
3 Feb 21 - Biodiversity is declining faster than at any time in human history, says a report calling for a new economic framework recognising the importance of ecology.
26 Jan 21 - Reformed trade rules could provide a climate dividend of the rancorous Brexit process of leaving the European Union.
4 Dec 20 - Scotland and British businesses are piling pressure on the UK government to set an ambitious 2030 climate target ahead of a summit co-hosted by Britain and the UN on the fifth anniversary of the...
1 Dec 20 - Britain is preparing to announce its first solo carbon-cutting pledge to the Paris climate agreement, in a tight political manoeuvre ahead of an ambition summit on December 12.
1 Dec 20 - Scotland is set to start the world's first trials of green hydrogen to replace natural gas for cooking and heating in 300 homes.
24 Nov 20 - Extinction Rebellion is launching a campaign of financial civil disobedience aimed at exposing the "political economy's complicity" in the unfolding ecological crisis.
23 Nov 20 - Parents and grandparents, not the so-called Generation Green, are the most likely groups to try to minimise their environmental footprint, a new study finds.
23 Nov 20 - British billionaire Chris Hohn is aiming to force hundreds of US and European companies to slash their greenhouse gas emissions by enlisting global investors to demand an annual vote on their climate...
19 Nov 20 - British Prime Minister Boris Johnson's plan to bring forward a ban on the sale of new fossil fuel vehicles by 10 years to 2030 will still not go far enough to meet the government's own legally...
---