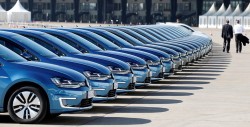 Wednesday - China will take action to curb the "blind" development of its rapidly growing electric vehicle sector, says a state planning spokeswoman.

Wednesday - Managers of the £1.5tn invested in Britain'sworkplace pension schemes are to be given new powers to dump shares in oil, gas and coal companies in favour of long-term investment in green and "social impact" opportunities.

Wednesday - Many EU countries are veering off the course of action they committed to under the Paris Agreement, according to a new report.

Wednesday - The City of London Corporation has announced plans to source 100 per cent of its electricity from renewables.

Wednesday - Women must be at the heart of climate action if the world is to limit the deadly impact of disasters such as floods and storms, says former Irish president Mary Robinson.

Tuesday - European Union lawmakers and member states have agreed on a renewable energy law, including support for electric vehicles and rooftop solar panels.

Tuesday - More than 150,000 US homes and businesses could face frequent high-tide flooding within 15 years. That could double by 2045, a new report says.
---
Tuesday - South Africa will set carbon targets for each sector of the economy every five years, under a draft climate law out for public consultation.
Tuesday - Samsung has become the latest international company to take the step towards obtaining 100 per cent of its energy from clean sources.
Tuesday - Australian companies are not doing enough work to model the risks of climate change and how it will affect their profitability, a new report says.
Tuesday - Smog more toxic than can be measured by monitoring devices blanketing New Delhi, months before the start of the city's traditional pollution season.
Monday - Global warming is on course to exceed the most stringent goal set in the Paris agreement by around 2040, threatening economic growth, according to a draft report that is the UN's starkest warning yet...
Monday - Tropical cyclones are slowing down. Hurricanes have lost their hurry. Paradoxically, this is bad news: they have more time to work their mischief.
Monday - Storing billions of tonnes of CO2 underground would be a "safe and effective" way to help to limit the effects of climate change, a new study says.
Monday - Climate change will make rice less nutritious, putting millions of the world's poor at risk, new studies show.
Monday - The booming market for products for 'urban skin' reflects anxieties about the health impacts of living in cities – but is it all just a marketing gimmick?
Monday - McDonald's will end the use of plastic straws in its British restaurants next year, after nearly half a million people called on the company to ditch them.
15 Jun 18 - The renewed upward march of global carbon emissions is worrying and a big step backwards in the fight against climate change, according to BP.
15 Jun 18 - By ADAM FRANK | In 1968, the astronaut William Anders looked out from his moon-circling Apollo 8 capsule and saw the mottled blue Earth emerging over the gray lunar horizon.
---