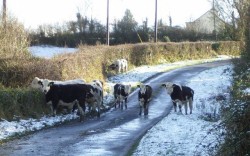 Friday - There's no shortage of good intentions in Ireland's climate plan, but they are too vague to cut emissions significantly.

Wednesday - About 49 million acres of forest disappeared worldwide in 2015, mainly in North America and the tropics, putting the year's global deforestation level at its second-highest point since data gathering began in 2001.

Wednesday - A recent heatwave in Siberia's frozen wastes has resulted in outbreaks of deadly anthrax and a series of violent explosions.

Wednesday - Foreign animals and plants can cause huge damage in vulnerable nations like New Zealand, with the march of Argentine ants a new example of how climate change is boosting the threat.

Tuesday - Justin Trudeau has proposed to end Canada's coal use, tax carbon pollution and invest in clean energy technology. But he also wants to keep Canadian oil flowing.

Monday - The most obvious effect of global warming is not a doomsday scenario. Extreme heat is happening today, and wreaking havoc on vulnerable bodies.

Monday - Nearly one-third of tropical animal species face extinction if humans do not curb their growing appetites for beef, pork and other land-intensive meats.
---
Monday - Pepsico, Unilever and Nestlé have been accused of complicity in the destruction of Sumatra's last tract of rainforest shared by elephants, orangutans, rhinos, and tigers together in one ecosystem.
21 Jul 17 - Humans have produced more than eight billion tonnes of plastic since the 1950s with the majority ending up in landfill or polluting the world's continents and oceans.
21 Jul 17 - OPINION: Stop obsessing with how personally green you live – and start collectively taking on corporate power.
20 Jul 17 - At the halfway point of the year, 2017 remains the second-hottest year to date — a surprise given the demise of the El Niño that helped to boost temperatures to record levels last year.
20 Jul 17 - The next generation will have to pay a $535 trillion bill to tackle climate change, relying on unproven and speculative technology.
20 Jul 17 - In Guatemala, one of the world's largest silver deposits reaps millions for its Canadian owners - but for local farmers the price is their land and even their lives
18 Jul 17 - Some 200 environmental and land-rights activists were killed in 2016, making it the deadliest year on record.
18 Jul 17 - Do we have a fundamental right to breathe clean air, drink clean water and eat safe food?
14 Jul 17 - The greatest impact individuals can have in fighting climate change is to have one fewer child, according to a new study that identifies the most effective ways people can cut their carbon emissions.
13 Jul 17 - Climate history locked in stalagmite evidence warns of 10,000 years of drought – 100 centuries – to come in the Middle East.
12 Jul 17 - Custodians of world heritage-listed sites should aim to keep global temperature increases to just 1.5deg, the United Nations says.
12 Jul 17 - Civil society organisations warn that the Green Climate Fund's decision to accredit more private banks will disadvantage poor countries.
---