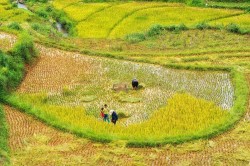 16 Apr 19 - Irrigation, drought, sea-level rise and more are causing salt to build up in soils around the world.

8 Apr 19 - Genetic modification should not be ruled out by the Government as a solution for climate change and other environmental issues, Federated Farmers says.

27 Feb 19 - The risk of Queensland fruit flies establishing in New Zealand is expecting to increase as the climate warms, threatening the country's horticultural industry.

15 Feb 19 - Climate change and the Emissions Trading Scheme have fallen down the list of things worrying farmers.

31 Jan 19 - Food shocks are becoming more frequent as the climate changes, prompting calls for "climate-smart" farming systems and the building up of global food reserves.

29 Nov 18 - A new science paper spelling out why animal agriculture will have to be severely curtailed if the Paris Agreement targets are to be met could have huge implications for New Zealand.

23 Nov 18 - Nitrogen use – responsible for a large chunk of New Zealand's pollution and greenhouse gas emissions – needs curbing, the OECD is warning.
---
5 Nov 18 - Nitrogen inhibitors could be in use on New Zealand farms again by 2020, farmers say.
31 Oct 18 - A global failure to cut greenhouse gas emissions will see New Zealand farmers face demands for major production cuts, the world's largest milk-producer is warning.
23 Oct 18 - Tiny automated machines could soon take care of the entire growing process down on the farm. Fewer chemicals, more efficient – where's the downside?
16 Oct 18 - The drive for genetic selection means cattle are increasingly vulnerable to deadly new epidemics that could emerge as the climate warms.
17 Sep 18 - New ways of digging the dirt could both deliver more food and slow climate change. And farmers in the developing world are making a difference.
13 Sep 18 - A company in Scotland has unveiled what it claims is the world's most technically advanced indoor farm.
10 Sep 18 - Cutting stock numbers on farms to reduce greenhouse gas emissions and protect waterways would actually boost farm profits, says the lead author of research out today.
17 Jul 18 - While climate change takes a toll on agriculture and land use contributes to warming the planet, soils still find little attention from policymakers in their climate strategies.
17 Jul 18 - Researchers have compiled a database on food production around the world in order to determine the best means of reducing the environmental impacts of what we eat.
31 May 18 - A small amount of marine algae added to cattle food can reduce their methane emissions by as much as 99 per cent, scientists say.
16 May 18 - New Zealand's beef and sheep sector says it will be carbon-neutral by 2050.
10 May 18 - New Zealand's land-based primary industries need to get ready for more serious crop diseases as climate change causes longer droughts, warns new research.
---