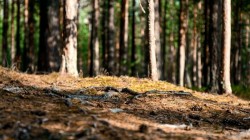 Thursday - The Russian government is using anti-spying legislation to silence environmental campaigners, a leading watchdog has warned.
Thursday - Poland has been given two weeks to stop illegal deforestation in a Unesco-protected forest or face fines of at least $NZ170,000 a day.

Thursday - More than 2.5 million disposable cups have been purchased by the UK's environment department for use in its restaurants and cafes over the past five years – equivalent to nearly 1400 a day.

Tuesday - A German utility is planning a string of electric vehicle fast chargers every 120 to 180 kilometers along highways in seven European countries, from Italy to Norway.

Monday - Norway's $1 trillion fund is to consider divesting from oil and gas stocks to protect the country's economy from oil price risk.
16 Nov 17 - The Norwegian government is being sued by climate activists over a decision to open up areas of the Arctic Ocean for oil exploration.

13 Nov 17 - European Union negotiators have agreed to a compromise on carbon market reforms, with the bloc keen for a deal this week to show leadership at UN climate talks in Bonn.
---
10 Nov 17 - A giant black mark on Germany's environmental record is scarred on the land an hour's drive from the venue of this year's UN climate talks in Bonn.
9 Nov 17 - The European Commission has a legislative package aimed at reducing CO2 emissions in road transport and encouraging the uptake of electric cars.
3 Nov 17 - Just days before international climate talks start in Bonn, firms are lining up to drill for oil - at great expense - in northern European waters.
31 Oct 17 - Greece is one of the most vulnerable countries to climate change in Europe, according to experts, and faces a gloomy future.
30 Oct 17 - Hundreds of supersonic jets could be flying businesspeople over Europe within 10 years, but documents show the EU preparing to cede oversight of their huge CO2 emissions.
30 Oct 17 - Italy plans to phase out coal power plants by 2025, the country's industry minister said during a presentation of a new energy strategy.
26 Oct 17 - As Europe embarks on a new round of trade talks with New Zealand, Japan, Australia, and various South American countries, calls are growing for the EU to enforce environmental and social clauses in...
24 Oct 17 - Credit institutions worth $3000 billion have joined forces to throw their weight behind sustainable development.
17 Oct 17 - The European Union has opted for a public awareness campaign on the impact of plastics on the environment, saying a tax would not be sustainable.
16 Oct 17 - Germany's environment ministry fears high emissions from coal-fired power plants and transport will make the country miss its 2020 climate targets by a wider margin than previously anticipated.
16 Oct 17 - A super volcano in Italy is waking up. Scientists are trying to predict what it will do next, and what its unrest means for volcanoes worldwide.
16 Oct 17 - Scientists have found clams and worms in the Baltic Sea are giving off as much gas as 20,000 dairy cows.
---