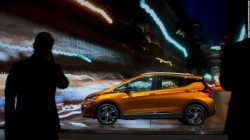 Monday - Someday, electric cars will just be cars. The big question is when will that happen?

Monday - Widespread increases in extreme heat due to climate change could bring unprecedented risks to the US in coming decades, a new study has warned.

Monday - The world economy collapsed when homeowners couldn't repay subprime mortgages. We're now making a similar bet on 'repaying' carbon emissions.
Monday - A mushroom suit for the deceased during burial offers a way to limit the environmental impact of traditional funerals.

Friday - To feed a global population that's hurtling toward 10 billion people, the world's farms will have to increase output faster and more efficiently than at any point in history.

Friday - Blanketing the globe with monocultures of forests and bioenergy crops is no dream fix to the climate crisis, a leaked draft report by the Intergovernmental Panel on Climate Change warns.
Friday - The Queen stands to make hundreds of millions of dollars from the world's biggest offshore windpower auction in a decade.
---
Thursday - Spraying trillions of tons of snow over west Antarctica could halt the ice sheet's collapse and save coastal cities across the world from sea level rise, according to a new study.
Thursday - A freedom of information request has revealed Adani sought the names of Australian scientists involved in reviewing groundwater management plans related to its proposed Carmichael mine.
Thursday - Cement is the key ingredient in concrete, which has been called the most destructive material on Earth.
Thursday - Feeding elephants increase in the amount of carbon that forests are able to store, says a new study.
17 Jul 19 - Record temperatures across much of the world over the past two weeks could make July the hottest month ever measured on Earth, according to climate scientists.
17 Jul 19 - Ursula von der Leyen has been confirmed as the first women president of the European Commission in a nail-biting vote that put climate change centre stage.
17 Jul 19 - Almost three out of four companies with a significant footprint on the world's forests have failed to provide data on their impact on global deforestation in 2018, according to a new study.
17 Jul 19 - THE UK Government has handed Jaguar Land Rover a loan guarantee of more than $NZ900,000 to help to accelerate its progress in the global electric vehicle race.
17 Jul 19 - More than 300 women will join a round-the-world voyage launching in October to highlight the devastating impact of plastic pollution in the oceans.
16 Jul 19 - Plans to build a wind farm in Tasmania have come up against an unlikely opponent with Australian Greens founder Bob Brown adding his voice to protests that the project will damage views and ecology.
16 Jul 19 - Prosecutors have indicted the head of a Indonesia's national power firm and other officials, raising hopes of a dirty energy clean-up.
16 Jul 19 - A farm in Portugal is showing how the ancient art of silvopasture – combining livestock with productive trees – might offer some real answers to the climate crisis.
---