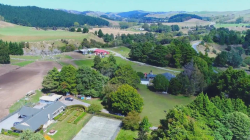 Today 12:00pm - Parliament is under increasing pressure to let farmers claim credit for carbon stored in trees and soils on their land.

Friday - Implementing the zero-carbon bill could see about 10 per cent of current farmland converted to forests, the Ministry for the Environment says.

Thursday - The country's largest carbon-farming company says there is more marginal land available for forestry than officials are telling the Government.

20 Aug 19 - A think-tank representing some of the biggest companies operating in New Zealand wants international carbon credits to be treated the same as domestic emissions reductions.

19 Aug 19 - A consortium of experts is calling for New Zealand to be carbon-neutral by 2040 and a doubling of the Government's methane reduction-target.

16 Aug 19 - Pacific Islanders' fears of the effects of climate change which occupied their leaders for 12 tense hours at the South Pacific Forum overnight were passionately voiced in Auckland this morning by a young Pasifika woman.

15 Aug 19 - The Government went beyond officials' advice in proposing cuts in methane emissions of up to 47 per cent, briefing papers show.
---
9 Aug 19 - Producers and users of electrical and electronic goods, farm chemicals and plastics, tyres, refrigerants and packaging could be about to become legally responsible for their disposal.
8 Aug 19 - Without regulations requiring all businesses to cut greenhouse gas emissions, some New Zealand companies will freeload off the efforts of others, the country's leading emissions auditor is warning.
7 Aug 19 - National's new climate spokesperson says the party has moved a long way on climate change - and he's had a hand in it.
6 Aug 19 - Maori could legitimately take the Crown to the Waitangi Tribunal if councils around the country don't work with them on climate change, a leading environmental law expert says.
5 Aug 19 - The Government says it will not set up a new agency to set the volume of carbon credits in the market.
5 Aug 19 - The agriculture sector is split over how much to cut methane emissions – but it looks like none of its members agree with the Government.
5 Aug 19 - Protecting New Zealand's native species and ecosystems against the ravages of climate change will be good for business.
2 Aug 19 - Christchurch Airport chief executive Malcolm Johns has a neat response for anyone suggesting he doesn't understand the implications of the zero-carbon bill on the agricultural sector.
1 Aug 19 - THE GOVERNMENT'S decision to cancel Kyoto units has left forest owners with more questions than answers.
31 Jul 19 - Free carbon credits to trade-exposed heavy emitters are being phased out and forests registered in the Emissions Trading Scheme before 2019 will be barred from the new averaging accounting system,...
31 Jul 19 - The Government is about to unveil more changes to the Emissions Trading Scheme.
30 Jul 19 - New Zealand needs to more than halve emissions of most gases over the coming decade if it is to meet its Paris pledge, the Government says.
---